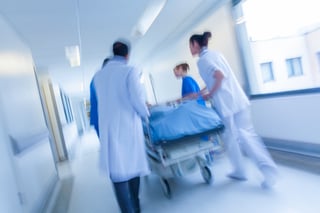 When a patient is rushed to the operating room for emergency surgery, timing is crucial. If the operation doesn't happen immediately, the patient's life could be at risk. The clocks in the operating room are the most obvious examples of the importance of time synchronization in a hospital. From floor to floor, and from the doctor to the patients, just about every aspect of healthcare relies on synchronized clock systems. Here are some of the key ways precise timing is vital to patients' safety and the operations of a hospital.
Medication Administration
Doctors and nurses must account for every minute of patient care in order to avoid consequences. This includes medication administration. Certain medications must be administered at specific intervals in order to work, and, in some cases, keep a patient alive. This is especially important with the daily staff changes that occur. One nurse must know the exact time a patient received a certain medication from the last nurse on duty. Nurses must also make sure a patient doesn't run out of a medication such as an IV-administered medication.
Surgical Procedures
Surgeons need synchronized clocks for various reasons. Getting doctors and other staff from different places in a hospital to a single operating room at the same time is one good reason.
Surgeons must also keep track of two different types of time simultaneously – the actual time of day and the elapsed time of a procedure.
It is also critical that hospitals have clocks with the accurate time because anesthesiologists rely on this precision to administer medicine at the correct time. If timing is off, it could cause a ripple effect of complications during a procedure.
If a patient does experience complications, goes into cardiac arrest, and needs to be resuscitated, an accurate time is vital in following certain guidelines for performing CPR. For example, professionals are trained to check for a pulse or breathing. If there is no breathing or a pulse within 10 seconds, they should begin CPR.
Insurance companies keep track of whether surgeries take place when scheduled and medications are dispensed on time. If an insurance company sees a discrepancy, payments can be delayed, which can have a negative effect on patients or hospital staff.
Staff Scheduling
Have you ever gone to the doctor's office and had to wait past your scheduled appointment time before seeing your doctor? Not only was it inconvenient for you, but it forced every patient with an appointment after you to wait as well. For an annual check-up this might not be a big deal, but for patients in a hospital, it could have fatal consequences.
It is highly important for all clocks in a hospital to be synchronized so that when nurses and doctors record their time, the next nurse or doctor on duty can pick up where they left off and keep in time with any given patient's schedule.
American Time Clocks that Cater to the Healthcare Industry
At American Time, we understand that precise timing is critical for certain customers, so we offer systems that work and can alleviate issues. EverAlert, a platform and user interface for communicating emergency alerts, routine digital signage and synchronized time, can be especially useful in the healthcare industry. It includes visual displays that extend your existing messaging and emergency notification capabilities.
Our Elapsed Timer with Code Blue is another tool that is useful in the healthcare field. Intended to be used with a SiteSync IQ Wireless Clock System, the elapsed timer can be used to count up or count down. The code blue feature provides an override, forcing the unit into a special count up while all other functions continue to operate in the background. So, a surgeon could toggle back and forth between the actual time of day and elapsed time of a procedure. This is especially helpful in operating rooms, intensive care units, cardiac intensive care units, and laboratories.