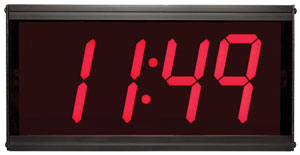 Often in life, your decisions come down to two options. White or wheat toast. Grilled or fried chicken. Take the blue pill or the red pill — any Matrix fans out there?
You have a similar choice when choosing the display format for your facility's synchronized time system — digital or analog.
While analog clocks have their place, there are times when digital is clearly the better choice. Here, we'll explore the advantages you'll enjoy with digital clocks and what you'll need to consider.
Read More