You've probably heard this one before: Students of today are studying for jobs that haven't been created yet. In theory, a certain knowledge base will provide a springboard to create or advance a field of technology. The product experts at American Time know a lot about this. They've taken their industry-leading wire guards and created solutions that help protect sensitive electronic equipment.
Protecting Electronics in a School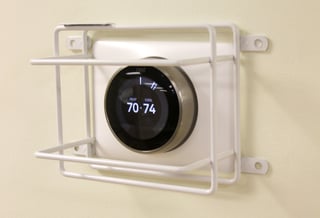 We know that kids have curious minds. Sometimes those minds get curious about delicate instruments in a school. That's where products from American Time's wire guard line enter the scene to help deter damage. By taking the concepts that help protect clocks in a school, American Time has developed wire guards for items like electrical outlets, thermostats, smoke detectors and motion detectors. These products come in a variety of sizes and shapes. Clear plastic protection is also an option, while some guards are available with a security key for quick access to make adjustments or repair.

Wire guards in a gymnasium
Kids don't lose their curiosity when they step inside a gym. How many have ever launched a basketball at a clock inside your school gym hoping to hit the target. American Time has a line of products aimed to take the fun out of target practice, with wire guards for clocks, exit signs, lights, bells, horns and speakers. Again, engineering ingenuity has taken the basic wire guard concept and modified it to make it useful for protecting a variety of products, including those in a higher risk environment.
Protection for Wi-Fi Access Points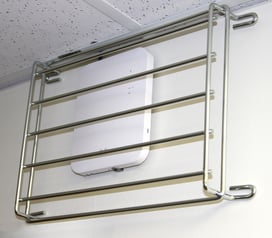 The loss of internet access can be very disruptive. Communication breakdowns between colleagues and friends can be stressful, and the devices that run schools and businesses can bring common and critical activities to a halt when internet service fails, resulting in a loss of time and money. So why risk damage to your wireless access points when you can protect them with a wire guard system? Again, American Time can help with solutions featuring wired and clear protective enclosures.
There are many different types of wire guard protection options to choose from. It all depends on what size and type of device you need to protect. As technology improves and as kids get more curious, you'll probably need to put wire guards around things that haven't even been invented yet. When you do, American Time will be there with a great selection.