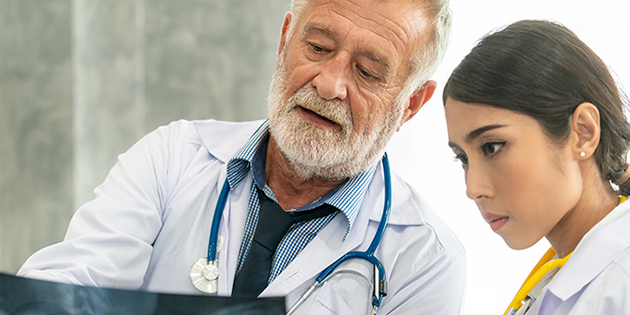 When every second matters, each person in your clinic or hospital needs to be on the same time. Whether tracking surgery time, coordinating patient care, keeping appointments on time or recording tasks, precise time throughout a building or campus is essential.
Synchronized time happens when each clock in a clinic or hospital shows the same time. Whether you choose analog or digital clocks, there are many time technologies to fit your specific needs. From expanding an existing wired clock system, to adding wireless clocks, to considering Wi-Fi clocks, you can go here to read more about synchronized time technology choices, features and options!

If you're thinking about synchronized clocks or a clock system for your clinic or hospital, consider these benefits that impact efficiency, care, and the bottom line….
Avoid Time Disputes
When every clock shows the same, precise time in every room and corner of a building, it lessens the opportunity for disputes or confusion about time. Patients know when to expect an appointment or staff visit; billing and record-keeping is accurate from room to room; and time between each station or room is accurate.
Better Coordination of Care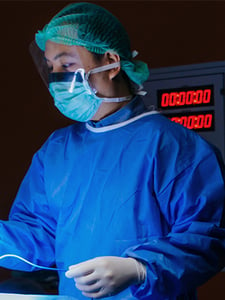 Accurately track medications, patient appointments, rotations and more with clocks that display accurate time to within 1/10th of a second. During operations, the time on each clock – from the prep area to the OR or ER – needs to be in sync; elapsed time indicators on digital clocks, for example, are a highly visible and easy way to count time up or down during surgery.
Free-up Maintenance Staff Time
Synchronized clocks keep the right time and automatically adjust for daylight saving time. Now, instead of adjusting clocks or responding to endless work orders, your maintenance staff can spend time on other issues. American Time clocks are durable, beautiful and long-lasting. Hang them and forget them!
Our clocks, clock systems and clock options address these key health care issues and more. American Time technicians and experts have decades of experience working with our high-quality, American-made technology!
Stylish, precise and customizable analog clocks
Wired, wireless, stand-alone, Power over Ethernet and Wi-Fi technology options to fit your building
Beautiful materials and logo options to reflect your brand

Highly visible, sleek and durable digital clocks

Each digital clock is built with leading-edge processor technology and precision engineering for a long life.
Wired, wireless, standalone, Power over Ethernet and Wi-Fi technology options
Four and six-digit options, along with various digit sizes, for maximum readability
Buzzer, Code Blue, and count down/up options available
For a truly comprehensive time technology that integrates daily messaging and emergency alerts, learn about the EverAlert Communication Platform.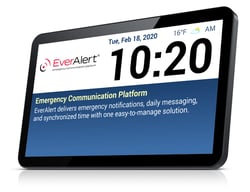 Deliver clearer daily messages and tailor communication by audience or department

Integration with systems like fire, P.A. and lockdown create seamless communications in an emergency

Analog or digital clock options for perfectly synchronized time

---
More Resources