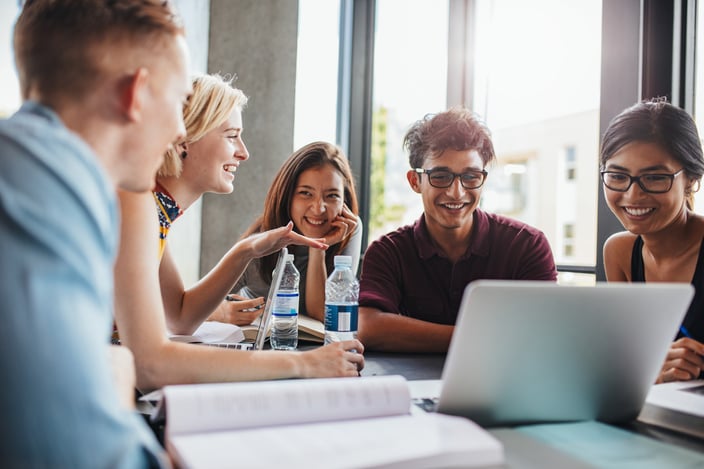 A student is called to the office but the PA system disrupts the entire school to make the announcement. A student has a medical emergency in a hallway but there's no way to communicate with nearby classrooms. Instructions for fire, lockdown and tornado drills aren't clear or specific to each area of a building.
No single emergency notification system can cover every scenario and communicate in every way possible, as explained in a recent survey and report by Campus Safety: "… several mass notification systems should be deployed so that the weaknesses of one solution can be compensated for by other so­lutions." In fact, most K-12 and higher ed survey respondents use multiple systems to ensure that emergency communication is clear, redundant and reliable.
From the Campus Safety report…
---
Why It Is Wise to Adopt Multiple Mass Notification Systems

It may be tempting to think that a robust emergency notification solution will be sufficient, but no one type of technology can reach everyone during an emergency.


For example, text alert systems are effective ways to reach on-campus and off-campus students, employees and parents who have signed up to receive notifications on their mobile devices, but what about on-campus visitors who aren't registered or students who have turned off their phones to take a test? Additionally, there can be delays in community members receiving text messages for a variety of reasons.


Loudspeaker announcements are instantaneous and can reach most people on campus, but what about the hearing impaired or people who are off-campus but still need to be notified?



Digital signage emergency messages also are instantaneous and can be read by most community members, but what about the sight impaired, as well as individuals who aren't onsite?


These examples demonstrate that several mass notification systems should be deployed so that the weaknesses of one solution can be compensated for by other solutions. When adopting systems, be sure to account for visitors, the hearing and sight impaired, individuals who are both on campus and off-campus, as well as members of the community who might not be able to understand English.
---
Multiple emergency notification systems deliver many benefits, including greater confidence that you're prepared to handle a range of emergencies and improve communication around non-emergency or daily activities.
Messages that reach everyone
A simple message on a screen may alert those sitting in a quiet classroom, but it won't grab the attention of students and staff in a large room, noisy gym, or students with access and functional needs such as hearing impairments.
Multiple emergency notification systems should be able to get the message out in a variety of ways that reaches visitors, staff, and students of all abilities. This article by Chris Dorn of Safe Havens International explains further,
"A great solution would likely consist of a range of responses, for example adjusting the tone of alarm signals (as much as code allows) along with redundant notification methods using all available technologies. Digital signage and clocks could be set to display emergency notification signage while a calming verbal notification could be repeated using classroom audio or building PA systems. At the same time, considerations must also be made for eventualities such as power outages or system malfunctions.
Message customization is also important. A message board that says "Tornado warning" doesn't give clear direction to anxious students, staff or guests about what to do. But a screen display that delivers customized messages by room or department such as, "Tornado warning, shelter in place" or "Tornado warning, exit to hallway" is much more effective in an emergency when anxiety is high and memory recall is low.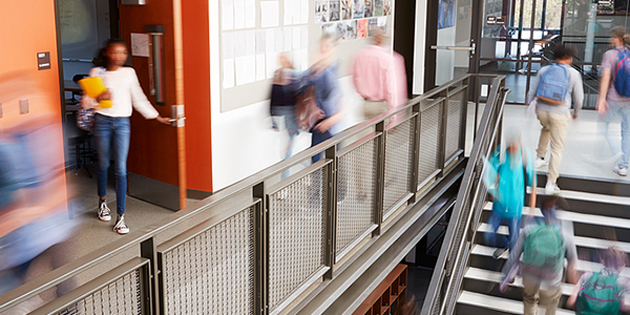 Multiple messages ensure confidence
Receiving a message in multiple ways – via text, a display screen, and over a PA system – makes people confident that the emergency is not a false alarm. We've all heard stories of individuals hesitating or ignoring warnings about severe weather or lockdowns, but receiving the same message in multiple formats strengthens the urgency of it and can drive faster response times.
From "Emergency Communications: The Deciding Factor in Almost any Crisis" by Chris Dorn:
"In addition to having backup equipment and communications methods, redundancy of processes can also be important. For example, emergency procedures should include instructions to call 911, as well as instructions for staff to make a backup 911 call later when time is available. While this might seem unnecessary, in our work we have seen too many examples of schools that fail to make critical emergency communications or simple mistakes made with those communications. Whether using radio, phone or e-mail, the opportunity to miss a communication or incorrectly relay a message could result in further loss of life during a major crisis."
Integrated, redundant systems drive faster response times
The ability to integrate redundant systems can simplify activation points during an emergency. For instance, if an emergency notification system is integrated with a fire alarm and a text messaging system, a triggered fire alarm will automatically activate the emergency notification system, text messages, and any other technology that is integrated. This reduces the burden on staff to activate multiple systems, and instead gives them more time to get everyone to safety.
Maximize investment with daily use
Emergency notification systems are essential for emergency situations, but schools will maximize the value by looking for software or solutions that can be used daily for classroom messaging, reminders, analog or digital clock times, weather updates, and more. In fact, according to Campus Safety, only 32 percent of K-12 respondents used their emergency notification systems for non-emergencies and only 10 percent of colleges and universities do the same.
This represents a large opportunity for schools to look for systems that not only add redundancy to emergency communication scenarios, but that can bring even more value by delivering daily communications that can be customized by grade, floor or department. Communication platforms that can be used by school administrators or even classroom teachers for test reminders or event reminders become more familiar and are easier to trust and use in an emergency. With customization by classroom, communications platforms can target messages (such as a student called to the office) without having to notify the entire room or school and disrupt learning.
Emergency notification systems that deliver targeted messages and even display analog or digital clocks quickly increase their value by replacing PA, clock, and other systems for better consolidation and streamlined management.
Building in redundancy and peace of mind
Using a range of emergency notification systems and mass communications systems not only strengthen the confidence and response during an emergency, but ensure that all students with all abilities receive communication during an event. By looking for at least one customizable and multi-functional system, schools can replace aging, existing systems with a more comprehensive solution that keeps everyone safe, informed, and delivers value daily.