(Part 2 of a 4 part blog series)
Part 1: Enterprise Risk Management for Schools
Part 3: Emergency Communication: The Deciding Factor in Almost Any Crisis
Part 4: Are your Special Programs Protected?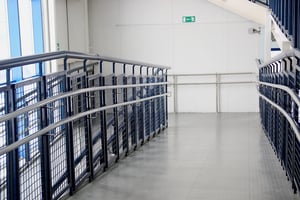 Schools have come a long way in terms of safety and security since Columbine, Sandy Hook and even the most recent high-profile attack at Marjory Stoneman Douglas High School in Parkland, Florida. But one area that is still frequently overlooked is the challenge of serving those with Access and Functional Needs.
Traditionally referred to as Special Education, emergency planning in this area has broadened to include not only students with obvious special needs, but others that may need special assistance due to language barriers or other challenges. This also extends to staff members and visitors, such as the teacher who is 7 months pregnant or the grandfather who comes to pick up his child but only speaks broken English.
There are a variety of challenges faced by special programs ranging from vocational programs to campuses that serve those with Access and Functional Needs. Because of this, the same approach to site planning should be used so that these types of considerations are taken into account when creating emergency plans for the organization as a whole. (Learn more about these challenges in the blog "Are your Special Programs Protected").
On the surface it is easy to identify many potential challenges. Mobility issues, difficulty understanding emergency instructions, or a lack of understanding of emergency procedures can all be a challenge. The problem can become even more complex when it is combined with the sensitivity of some students to emergency alert signals. For example, research by the National Fire Protection Association (NFPA) among parents of special needs students found that:
Reactions to emergency alert signals can hinder proper evacuation and can have adverse effects on students with noise sensitivity.
Some students respond to emergency alarms by freezing, by hiding under desks or by outright non-compliance.
19 out of 26 participants in the research study reported that emergency strobe lights have an adverse effect on their child.
The best way to address these concerns is through a coordinated approach to include these challenges in the emergency planning process. This includes any IEP process as well as the larger emergency planning process used by the organization. This allows the organization to work with the individual affected in order to come up with solutions that are workable within code requirements and other limitations. Other tips from the NFPA research include:
Considering the color and frequency of strobe light alert signals, at least in areas used by those with light sensitivities. According to the report: "By slowing down the frequency of the strobe and changing the color, it may be possible to allow a calm and stimulating effect. Slowing the lights will also reduce the possibility of causing chaos."
Consider using verbal messages instead of generic alarm tones (for example a message stating "Fire: Please evacuate now" or "Lockdown: Secure your area now" would be more calming and easy to respond to than a generic siren sound.
All this ties back in to the larger concept of good emergency communications. Does your school or facility have the means to leverage phone systems, smart boards, classroom audio, clocks, digital signage and other technology during a crisis? A great solution would likely consist of a range of responses, for example adjusting the tone of alarm signals (as much as code allows) along with redundant notification methods using all available technologies. Digital signage and clocks could be set to display emergency notification signage while a calming verbal notification could be repeated using classroom audio or building PA systems. At the same time, considerations must also be made for eventualities such as power outages or system malfunctions. (For more on this see the blog "Emergency Communications").
We suggest having a standardized approach that can be used across the organization and customized as needed. For example, using an "Individual Preparedness Plan" (IPP) along with the IEP process can help staff identify potential challenges and come up with solutions. A form that lists out checklists of common sensitivities (auditory sensitivity, for example), followed by checklists of common solutions (such as ear muffs or hand fidgets), can help guide staff in this process.
Here are a few tips to consider when planning for those with access and functional needs:
Consider a wide range of special needs, including physical impairments along with language barriers and temporary situations such as a broken limb or pregnancy
Develop procedures for each individual and include general commentary along with specific equipment or practices that the the individual needs, such as ear muffs for noise-sensitive individuals and portable cribs for infants.
Use a standardized process to relieve some of the burden from individual staff members who may have varying levels of experience in serving those with special needs. For example, consider using a standard form developed by the organization's special education department.
For more information on how emergency signals can affect special populations, see the NFPA article "Fire Alarms and At Risk Populations".
Link: https://www.nfpa.org/News-and-Research/Data-research-and-tools/Detection-and-Signaling/Fire-Alarms-and-At-Risk-Populations
This blog is part of a series by guest author Chris Dorn. Chris is a co-founder of Safe Havens International (SHI), the world's largest non-profit school safety center. Founded in 2001, SHI works to create sustainable solutions for schools working on limited budgets and with limited available staff resources for safety. Chris has trained or provided assistance to the Federal Emergency Management Agency (FEMA), the Department of Homeland Security, the International Associate of Chiefs of Police, the Israeli National Police, and dozens of state departments of education and law enforcement agencies. SHI has provided post-incident assistance for over 300 school crisis events, including 12 active assailant/targeted acts of violence in schools. More information on Safe Havens, including their free resources and groundbreaking research, is available at www.SafeHavensInternational.org.