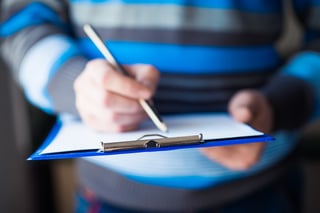 You're in charge of building a new school or hospital and your to-do list is mounting. There are a lot of items on that list you have a pretty good grasp of...but one item presents more of a challenge: installing a system of synchronized clocks.
Fear not, for here are some FAQs on synchronized clock systems that will make your job easier.
Know Your Voltage
When getting started on your synchronized clock system, know which voltage will be needed. Most clocks are made to operate from one type of voltage — 24 VAC being common. One critical thing to remember during installation: most voltages are not convertible, so if you plug a 24 VAC clock into a 120 VAC source,it will be destroyed. Some newer models of clocks can be converted from 24 VAC to 120 VAC, but the same rule of thumb applies while installing them: a clock set at 24 VAC and then plugged into a 120 VAC source will still be ruined, so make sure your settings are a match prior to installation.
Power Use in Synchronized Clocks
You may be asked to determine the costs associated with running a system of synchronized clocks, which use energy. Traditional clocks (24 VAC mechanical) use .24 amps while newer electronic clocks draw .043 amps of power. If your building has LEED initiatives in place or wants to save money on energy, then a new version of the electronic clock might be the answer. Battery operated clocks are also available, although the batteries will need changing from time to time.
Master Clocks: Keeping Everything in Sync
You will need to determine the best type of master clock for your network, whether it's wired, wireless, or running off an IP network. The master clock's most important job is to make sure all the clocks are keeping the same time. You can select the operating protocol in the master to send a correction signal to the clocks on the network.
Some master clocks can also control other utilities in your facility, like turning the lights, heating, and air conditioning on and off, so take those features into consideration when planning your purchase.
Another feature to consider is that some master clocks can control both wired and wireless clocks simultaneously. This is a particularly handy when upgrading from wired to wireless clocks within your network. With the right master clock in place, you can upgrade your system to include wireless clocks as the budget allows, and not have to worry about a lag in performance.
Those are just a few of the commonly asked questions about synchronized clocks. For more information on the items above, or if you need additional help, call the experts at American Time at 800-328-8996