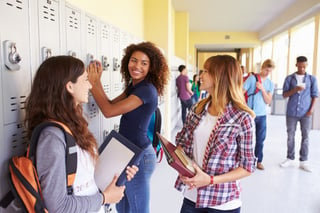 School clock systems are reliable. They can keep perfect time for years as long as you perform regular maintenance on them. But when they go down, getting them fixed in a quick and efficient way is important for schools to stay "on the clock."
Here's how to perform maintenance checks to prevent fire drill repairs and ways to fix your clock system if something does go wrong.
Perform Regular Maintenance Checks
There is a lot of work that goes into maintaining a school including the maintenance of a well-functioning clock system. Accurate and synchronized clocks keep all students, teachers, and faculty on time, so it's important that those clocks be maintained throughout the year.

A few times per year, and especially at the end of the school year, it's important to run through a maintenance checklist for your clocks. The checklist includes:

1. Visual Inspection — Go room to room and physically check each clock. Make sure each clock is telling the correct time and look for any damage.

2. Assess Your Inventory — Look for signs of vandalism or missing clocks.

3. Check the Batteries if Necessary — If you have any wireless clocks, it's most important that you check the batteries. Note: Replacing batteries in a small clock can be tricky.

4. Budgeting — This only pertains to the end of the school year. Schools plan their budgets in the summer, so if you need new equipment or repairs, now is the time to identify that.

5. Check Class Schedule Changes — Looking ahead to next school year, are there changes in class schedule? If so, the end of the school year is the perfect time to adjust the bell system to the new schedule.

While performing routine maintenance checks on each clock, you may notice a few clocks need new parts. If this is the case, your next step is to identify the clock part numbers.


Understanding Clock Part Numbers
Whether you plan to repair the clocks yourself or send them to a professional, it's helpful to know and understand the clock's part numbers. This may sound easy, but it can be more difficult than you think because there are no universal part numbers in the clock industry. In fact, much like computers, every manufacturer has its own system of codes and numbers.

First, you want to identify its part or model numbers. Each manufacturer places the model number in the rear of the clock. Once you've identified the numbers, you can diagnose the problem and order new parts. But sometimes, diagnosing a problem on a synchronized clock is more difficult than you think. If you're struggling to identify the issue, our experts at American Time can help. Call us at 800-328-8996.


Solutions for Your American Time Clock System
Clocks are intricate machines that function with the help of many tiny, moving parts. Not only can it be difficult to diagnose the problem, but it can be even more challenging to fix the problem if you're not a professional. If you're having trouble with an American Time master clock or timing system, click the product category below for a downloadable PDF to help troubleshoot and resolve common issues:


AllSync IQ —

This is the best solution for operating a wired clock system. This master is capable of operating more than 20 different wired clock correction protocols, plus it will synchronize it's time to the atomic clock time through the Ethernet. It will also automatically adjust for Daylight Saving Time (DST) changes.




AllSync Plus Wired Analog Clocks — These are the best replacement clocks on the market and the perfect choice when running multiple clock systems.

In fact, 75% of American Time's repair customers are replacing a defective clock movement with a solid-state AllSync Plus Movement.

AllSync Plus clocks are great because they adapt to the proper clock correction protocol upon installation.
SiteSync IQ Wireless Controller — The SiteSync IQ Wireless System keeps all American Time secondary wireless clocks and almost all wired systems clocks on the same time, along with updating them automatically for Daylight Saving Time (DST) changes.


SiteSync Wireless Analog Clocks — These wireless clocks have durable cases and highly visible dial styles, providing years of maintenance-free operation.
For more technical tips about choosing a time server or homing the hands on your clocks, click here.
What About Other Clock Systems?
If you're trying to fix an older, out-of-date master clock system, have no fear. Our clock technicians have more than a century of combined experience repairing major clock system brand clocks. One of our experts can either recommend a replacement master controller or fix your clocks and sophisticated time systems.
We also carry clock parts if you prefer to fix the clocks yourself. Our parts inventory can fix clocks dating back to the 1940s, including the appropriate hanger for the backbox. Replacement parts come with a two-year warranty if you choose a mechanical movement.
The cost of a clock repair is usually less than 65% of the cost of a new clock. However, if you do need to replace the master controller or add to your existing system clocks, American Time's AllSync IQ Wired Master Clock and AllSync Plus System Clocks work with all major brands of wired clock systems.
On its own, the AllSync IQ Master Clock will give you precision control over your failing secondary wired clocks and timing systems. The master clock also automatically adjusts for DST.
AllSync IQ is the perfect replacement for a diminished master clock since it works with clocks you have as well as with new American Time replacement clocks. Our master clock not only provides synchronized timing for the secondary clocks but also allows for control of bell signals through six internal electrical relay circuits.
Conclusion
So, if you follow the maintenance checklist above, it should minimize the number of repairs needed on your clocks. But when something does go wrong — and it inevitably will — it's best to identify part numbers first, then diagnose and troubleshoot the issue. Remember, if you need help, we're only one call away.