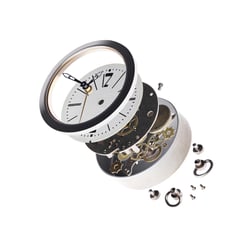 Let's face it: All things will eventually become old and break down, and your synchronized clock system is no exception. But the good news is that many replacement parts are available, making it easy to fix a legacy system and save you money and time. So whether you want to keep an old system in working order, or save an older clock, why buy new? See how clock replacement parts turn back time!
Standardized Clock Parts
If you have an old clock system that needs repair, just look on the dial for the manufacturer's name. The odds are good that it's a Simplex clock, model 2310 or 6310, as these were the standard for synchronized clocks for many years.

These old beauties are easy to find replacement parts for, and we have them here at American Time. The look is unmistakable and many of our customers want to keep their Simplex clocks. We can help you find the right parts and ship them to you, or we can do the clock repairs right here at our factory. Either way, you'll save money and time by keeping your classic clocks running precisely and consistently.
Other Clock Parts
Your network of clocks has many other parts, from battery booster packs to motors to movement components. We carry parts for most major clock brands. Browse our list of parts or contact us and we can help. Our parts inventory can fix clocks from as far back as the 1940s, so we'll have you covered!
Lost Time is Lost Money
The clocks you have in place are an investment that was made long ago, and you may not have to replace them if they stop working. Our clock repair technicians - with more than 100 years of combined experience - can help you find the right part or diagnose the problem. That way, you can roll time back to when your clocks were working as good as new!