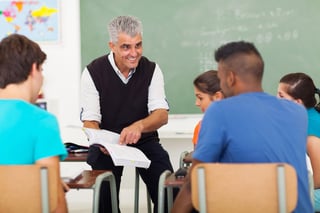 To be a successful coach, manager or teacher, you must be able to clearly convey messages to the groups you want to motivate. You must also recognize that some individuals or small groups may need to be communicated to differently in order to understand that message and act on it. This same concept is being used by schools that need to send important messages to everyone in a building. Integrated school communications systems are like good leaders: They can send one message to all, yet tailor it to specific groups, so everyone can understand and act towards a single result.
Zoned Messaging Can Help Keep Students Safe in an Emergency
In basketball, a team may employ a zone defense. Every player has a specific area of the court to defend, with one common goal: stop the opponent from scoring. In state-of-the-art school communication systems, there is a similar task at hand. A single message can be sent to the entire campus, but it can be tailored to specific zones. For example, if a fire alarm goes off and students need to evacuate a building, everyone will know there is an emergency thanks to alerts and tones sent to displays throughout the school.
With a zoned message, specific areas of the school will receive custom instructions on where to exit, like Door 1 or Door 2. This way, evacuation protocols are clear, and students can exit in a safe and orderly fashion. This same communication format can be used for weather emergencies or lockdown situations, with different locations for safety described.
Everyday Messages Can Be Customized and Sent Easily
Most of the time, thankfully, emergency messages are not seen, and routine messages need to be sent frequently to keep students and faculty informed of daily events. Information like class schedules, special guest appearances, and sports events can be sent via displays to everyone on campus, whether it's in a common area or specific room. Customized messages can be sent directly to a teacher within a certain classroom . School colors and mascots can be integrated within the appearance of the displays to grab the attention of the viewer and create a sense of school pride.
Integrated Communications and Synchronized Clocks
Don't forget about reliable, synchronized clocks. Perhaps the most important job of an integrated communication system in a school is making sure everyone is on the same page when it comes to keeping time. Classrooms and common areas keep identical time with an analog or digital display, and classes can utilize a countdown timer for testing. This synchronized time can also be integrated into online devices, as mobile computing becomes more common in schools.
By using one communication system, your school can cover a lot of ground when it comes to emergency alerts, everyday messages, and reliable timekeeping. All that, while tailoring specific messages to certain groups within the school.