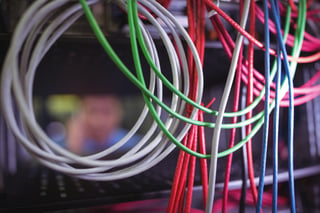 If you're in charge of building or improving the infrastructure of your school or factory, there is a lot to think about. If a system of synchronized clocks is on your list, you may have more options than you realized — thanks to all the advances in PoE clocks.
How Do PoE Clocks Work?
For starters, PoE stands for Power over Ethernet, which means these clocks get their power from Ethernet connections throughout the building. The clock must be connected to an Ethernet port in order to function correctly and get accurate time.
Are PoE Clocks Wired or Wireless?
Because they must be connected to an Ethernet port, PoE clocks are wired clocks, just not in the traditional sense. The Ethernet cable is considered the wire, but that cable is not connected to a typical power source. It's connected from the clock to your computer network, where it receives power and data. No master clock is needed in an environment of PoE clocks.
Much like wi-fi clocks , you don't need a master clock in an environment of PoE clocks, since your network server will be the controller.
PoE Clocks Can Save Money
PoE clocks are a popular option for schools and hospitals for a number of reasons, many of which focus on cost savings. If you are building a new structure, there is no need for electrical outlets where the clocks will be mounted, as the clocks acquire power from the Ethernet connection.
The savings may come in three forms:
There are no costs for a contractor to install high-voltage outlets..

You also save money by eliminating the purchase of a master clock.

Finally, if your current synchronized clock environment requires battery replacements from time to time, you can cross that cost off your checklist.
Reliability of POE Clocks
Most importantly, PoE clocks are reliable. They get accurate time from your computer network, so as long as your computer server is getting NIST time, you will be set.
These clocks also automatically adjust for Daylight Saving Time, so the hassle of manually turning clocks forward or backward twice a year is gone. The clocks consistently stay synchronized throughout your facility thanks to the PoE connection.
PoE clocks also share many of the same features of traditional wired clocks or other network-based clock systems. For example, they can be ordered in either analog or digital formats. Also, the clocks come in various sizes and have a number of different bezel options, including double-dial mounting.
For more information on getting PoE clocks installed into your school or business, click here.