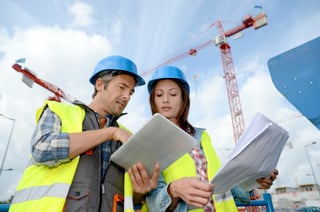 There are countless details and documents to complete when planning for a newly constructed building — from what materials are used, to how they are installed, and how the final product functions. Among those requirements, are considerations and specifications for a clock system.
Creating these construction documents is a time-consuming task. Fortunately, companies are making it easier and faster to spec for a variety of needs in many projects. For example, for our EverAlert emergency notification platform we provide a CSI specification that can be dropped directly into the construction documents. It's as easy as that. And these documents will prove beneficial throughout the project for many reasons.
Forms a Working Legal Document
Construction specifications serve as one of a project's foundational documents, removing the guesswork from inevitably complex endeavors. They ensure the customer receives what is specified for the building.
According to ArchToolbox, these details become a part of the legal documents of the agreement and form a cornerstone of the project design. In fact, in most cases, the construction specifications override the project drawings in the event of conflicting information.
Can Act as an Instruction Manual, Budgetary Aid, and Historical Document
Construction documents are so crucial in providing a clear understanding of the project that contractors are often advised to keep a copy of the document on site. Like an instruction manual, it ensures the building is being constructed exactly as it should be.
Highly-detailed project parameters can also save you headaches when it comes to establishing a budget. When you have a clear picture of the materials and methods that a project requires, you are better able to project costs, helping you avoid overruns while identifying areas of potential efficiency.
When the project is complete, construction specifications can live on, serving as a historical resource for maintenance throughout a building's lifetime.
Helps Avoid Disputes, Lawsuits
If nothing else, the details found in construction specifications can provide peace of mind to owners, specifiers and installers.
The basic understanding established by the specifications means you can avoid the unnecessary disputes that arise when there is a disconnect between the details. A sound set of specifications can settle these misunderstandings and help avoid the legal entanglements that no one is asking for.
EverAlert, a 3-in-1 Communications Platform
The specifications provided by American Time adhere to the guidelines set by the Construction Specifications Institute, the industry standard for construction in the United States.
And not only is EverAlert easy to plan for, but it's advancement in technology will make it a standout in a new building. It can provide notifications simultaneously to hundreds of people or specifically to a certain room or area. This streamlines communication throughout a building or campus.
Download the EverAlert Emergency Communication Platform Construction Specifications.