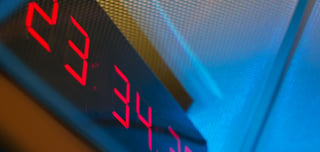 Keeping large groups of people focused on a particular task can be challenging. Ask any manager or teacher about this and they will list a number of items that contribute to the task. One thing they shouldn't have to worry about is accurate timekeeping. If a system of clocks are in place, the issue of getting people on time to class or meetings can be eliminated. More and more frequently, facilities like hospitals and schools are using synchronized digital clocks to ensure that operations run smoothly.
Digital Clocks are Easy to See
One of the primary benefits of digital clocks is their visibility. The large, red numbers are easily seen, even when glare or lack of light are an issue. When placed in obvious locations throughout a school or hospital, everyone has a good idea of the current time, and when or where they need to be next. In many cases, these clocks are anchored in elevated positions to avoid damage and provide excellent visibility, even from a distance.
Digital Clocks and the Countdown Feature
One of the more useful features of a digital clock is the countdown function. Start by pre-setting a period of time - say, five minutes....and when a class ends or an experiment starts, the clock begins counting down to zero. Students can gauge their pace between classes to make sure they arrive on time, while teachers and administrators can more accurately enforce tardiness policies. Countdown clocks can also emit a bell or other sound at a particular interval to let people know that time is running out. Universities, hospitals and other facilities can use the countdown feature to accurately conduct experiments and keep everyone aware of when a procedure starts and ends.
Digital Clocks and Easy Maintenance
Like any other type of device, digital clocks need to be reliable. One factor that gives digital clocks an edge over their analog ancestors is there are no hands that wear out over time, so your maintenance personnel don't have to worry about time consuming repairs. If run from a wireless controller, digital clocks automatically reset in the event of a power outage. Other advantages of a wireless environment include an automatic reset for Daylight Savings Time, and no batteries to change.
So if keeping people on-time and focused on deadlines is a priority, follow the lead of many hospitals, schools and colleges by installing a system of synchronized, digital clocks.