It's always great to add new hardware to the shelf! Last month, our Wi-Fi network clocks won a New Product Award from School Planning & Management and College Planning & Management magazines, and the award was recently delivered to our headquarters in Dassel, Minn.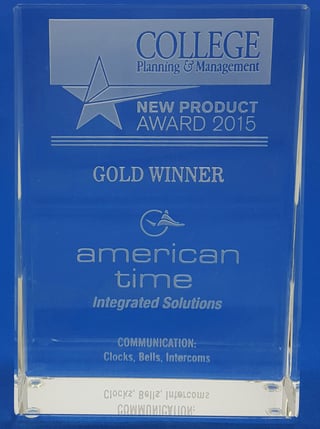 Congratulations again to the entire American Time team for your innovation and commitment to offering the best solutions for school districts and organizations across the nation!
Our Wi-Fi network clocks receive a precise time signal from a school's network time server and automatically update for daylight saving time. And with a five-year battery life, a school's maintenance staff can spend less time on clocks and more time on other issues. Because the clocks rely on the infrastructure of an existing Wi-Fi network, they don't require the capital resources and investment that a wired or wireless timekeeping system needs.
An independent panel of judges from around the industry selected the winners of the New Product Award. Customers of our Wi-Fi network clocks include St. Cloud State University in Minnesota, College of the Holy Cross in Massachusetts, the University of Houston and Western Michigan University School of Medicine.