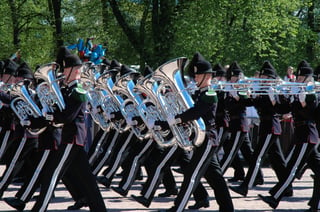 When working in sync, a marching band, a dance kick line or a military exercise can be an impressive sight. When a system of clocks are working together perfectly at a school, business, or hospital, they may be less entertaining, but are equally effective. When all clocks provide synchronous time, workflow proceeds in a rhythm that produces success for those who follow it.
That's why clock synchronization is important, but how does it happen? Here is a beginner's guide:
Master and Secondary
Start with your master clock, which will receive the correct time from a Network Time Protocol (NTP) server, Global Positioning System (GPS) satellite, or — if entered manually — it's own internal source. Once the master clock has an accurate time, it communicates the information to the other clocks in the facility. These clocks, known as secondary clocks, receive updated time messages from the master clock throughout the day. The messages from the master clock eliminate clock drift, where clocks count time at different rates. Masters can also send signals to trigger non-clock devices, like school bells, to keep them synchronized with the rest of the system.
No Second Guessing
The frequent communication from the master to the secondary clock ensures that all clocks are synchronous and that everyone is working with a clear sense of time. There is no time confusion: conference calls and meetings start on time and deadlines are met with clarity because everyone is working under the exact time of day. In a manufacturing plant, synchronized shift changes mean employees throughout the facility can better plan for the start and end of their day. In a school, classes start and end at the same time for everyone and students move quickly and smoothly to and from classes and lunch periods. Synchronous time increases productivity, efficiency, and ultimately: success.
Saving Time During Daylight Savings Time
The changes that occur during daylight savings time and the switch back to standard time are handled seamlessly from the master clock, which communicates the correct time to the network of secondary clocks. There is no need to change the time by moving from room to room and making the change manually on each clock.
Synchronization is the core feature of a clock system, and American Time is an industry leader in time keeping solutions that will keep your school or business working smoothly. Our wired AllSync IQ and wireless SiteSync IQ clock systems can help improve work flow and efficiency.
If you have questions about clock synchronization or the solution that best fits your facility, a customer service representative at American Time is happy to help. We can be reached at 800-328-8996, or you can view our catalog of solutions and review technical specifications on our website at www.american-time.com.