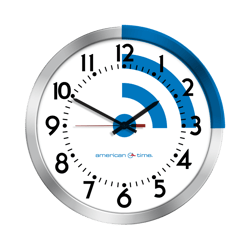 If you need synchronized time for your campus, factory, or office, battery-operated Wi-Fi clocks are an affordable, reliable, simple solution. Whether you are planning an upgrade to an existing building or a new installation, a Wi-Fi clock system will give you years of worry-free operation with incredible precision. Here are the six undeniable benefits of Wi-Fi clocks.
1. Location Versatility
Since there are no wires, you can hang your synchronized clocks on any wall in a location where you receive a Wi-Fi signal. With a long-life battery pack, you eliminate the need for a cord. Hang them from any place where they can best be seen for perfectly synchronized time anywhere you need it.
2. Easy Installation
Other types of synchronized clocks may require hours of work stringing electrical wires or ethernet cables. With Wi-Fi clocks, there is minimal additional cost for installation in your facility. They can even be preconfigured to your network, which means you don't need an engineer to install them. This saves you money and time as well as provides you with a solution that can be operating literally minutes after it arrives on site.
3. Minimal Maintenance
Hard-wired clocks simply have more operating parts, which present something to go wrong. Connections can become loose, wires may be cut accidentally, and the systems required to support them are more complicated. Wi-Fi clocks rely on the existing infrastructure of your 802.11n (b/g compatible) wireless network, so there's no need for a system controller or master clock. All you need is a wireless router. A Wi-Fi clock will produce years of maintenance - and - worry-free operation with very little which can go wrong.
4. Speed and Accuracy
Wi-Fi systems are fast and accurate. And staggered wake times mean unnoticeable network load. Your clocks will synchronize daily to provide highly accurate time across all installations without anyone having to do a thing. There is no better choice for perfectly accurate time within a second than a Wi-Fi clock.
5. Affordability
Wi-Fi clocks are without any doubt the most cost effective option when you compare up-front costs of a Wi-Fi system with a cabled system. Without the need for complex communications systems, Wi-Fi clocks offer the lowest cost of ownership because they operate with a simple solid-state system, that uses the latest technology. That produces the lowest cost possible upfront.
6. Automatic Daylight Savings Time
Finally, the most obvious reason why a Wi-Fi clock systems are so attractive is their ability to automatically adjust for Daylight Saving Time. No one has to fuss with them to adjust the time twice per year – a Wi-Fi clock simply handles this all by itself for you when it synchronizes. When you arrive in the morning all of your clocks will be on the right time and ready for the day!
We live in a world of precision and schedules. Synchronized time is a necessity for many facilities today for a lot of reasons. Wi-Fi clocks are the clear choice when considering a new installation. In terms of worry-free placement, installation, maintenance, and operation, there is no better way to go. Since they use your existing wireless infrastructure, they are also the most affordable option, too. The benefits of a Wi-FI clock system are undeniable for the most hi-tech and effective synchronized time solution.
Want to explore your options for Wi-Fi clocks? Click here to see the different styles, finishes and custom logo design options.