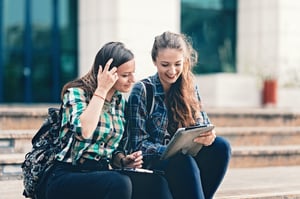 Technology has a way of forcing everyone around it to keep up. To make sure you're optimizing the technology experience in your schools, it's important to think about which of your learning tools might be in need of replacement as you work to fully take advantage of your digital ecosystem.
There was a time when digital technology was just another subject to be taught. But it has evolved well past that point, permeating the students' experience from bell to bell.
"Technology is no longer thought of as a separate class or skill; it is authentically integrated into the classroom as another tool or instructional strategy," said Lindsay Kopinski, who works as the instructional technology coach at Todd Hall School, an elementary through second-grade school in Lincolnwood, Illinois.
Here are some of the most common outdated school tech that are often in need of replacement.
1. Computer Labs
To see how technology is changing from an educational standpoint, look no further than the computer lab – if you can find one. While there used to be class periods dedicated to teaching students how to use computers; now, digital learning devices are integrated across the school. Computer labs are being replaced by a range of mobile devices, Kopinski notes. The classrooms in her school, for example, feature a mix of iPads, MacBooks, and iMacs.
2. Whiteboards
While mobile devices dominate, there is one increasingly prominent piece of classroom technology that isn't meant to be moved around: the interactive whiteboard (IWB). As a digital classroom hub, these devices allow students to connect via their personal learning devices and participate in their classes in new ways.
At the same time, IWBs make it easier for teachers to present material. Some teachers, Kopinksi notes, connect their boards to document readers, which have replaced the old combination of overhead projectors and transparency sheets, two more items that are most commonly in need of replacement.
3. Desks
Another piece of technology that teachers are replacing is an old one: the desk. Mobile devices mean teachers have whole new expanses of real estate to enhance their lessons. This often means sending students outside the classroom.
"Students use iPads to take pictures of shapes around the school and in their world so our students see that math is all around us," Kopinski offered as one example.
4. Keyboards, Pencils, and Paper
Young people's imaginations are vivid, but their creativity is often hindered by limited motor skills, Kopinski observes. Voice-to-text technology eliminates that obstacle, meaning students' creativity is not limited to how fast they can type or write, she says.
While these devices are helping students write by replacing keyboards and writing utensils, they also help students track how well they read the writing of others. Kopinski has noticed the benefits of students recording themselves reading out loud in order to monitor their own progress.
"Students are amazed when they listen back to how they used to read at the beginning of the year compared to how fluent they become at the end of a year," Kopinksi says.
5. Clocks and Communication Systems
While the devices mentioned above are common subjects of discussion among cutting-edge educators, there is one type of technology that you might be overlooking as ripe for an upgrade — your clocks.
With the wide range of communication and security needs that face schools today, it's important to have a system that can keep up. Since clocks are a naturally integrated part of schools, they make a natural home for upgraded communication technology.
EverAlert is an integrated platform that, yes, keeps the time, but also serves as an emergency notification system and school-wide communications tool. It incorporates a cloud-based platform which connects to smart screens that can be placed strategically throughout the building, broadcasting customized messages as needed.
The Benefits of EverAlert:
Synchronized Time: At one time, it was necessary for someone to check each clock to ensure they were staying accurate. Adjusting the clocks for Daylight Saving Time twice a year was also the norm. Now, though, synchronized clocks are the norm, giving educators peace of mind that their classes will stay on schedule.
Customized Communication: A worthy digital communication system can do more than tell time. It can also warn students when class is about to begin or, inside the classroom, quickly remind them how much time they have on a test. Features like countdown timers make it easier for students to focus on the questions in front of them instead of straining to read an analog clock and estimate their remaining time.
Communication systems like EverAlert can help keep students safe as they learn, capable of automatically notifying authorities during emergencies, warning building occupants of severe weather and communicating emergency information such as exit routes.
Remove Obstacles for Young Learners: There is one core idea behind every piece of technology that enters the classroom – to remove obstacles to learning while helping students stay engaged and inspired. When used in the hallways, digital clocks are easier to read from distance, so that students are better able to get to class on time.
What's Next for School Tech?
Eventually, the new technologies listed above will, themselves, be replaced. The new frontier, Kopinski says, includes augmented reality, which uses a device's camera or video goggles to overlay digital elements onto the user's environment. Some teachers are using Google Expeditions to get the benefits of AR.
In another way to further exercise students' minds, Kopinksi points to Breakout Boxes, interactive devices that help students develop the "4C's" – collaboration, communication, critical thinking, and creativity. The technology instructor further notes that STEM learning has seen a new development in the form of 3D printers, a growing presence in the fields of science, technology, engineering, and math.
To make sure their instruction is hitting the mark, tech-savvy teachers are using a robot called Swivl to record their classrooms and improve their teaching, Kopinski notes.
Technology will continue to be an integral part of the education, vocation or profession of students, so it's important that our schools work to integrate them into the early learning stages.