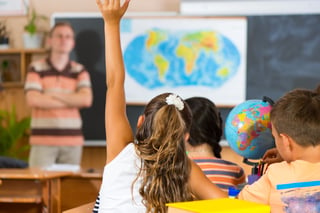 There is a certain elegance to the energy and efficiency of students moving throughout a school between classes. A bell sounds, doors open, and students and teachers move with purposeful pace. Moments later, the bell sounds, doors close, and lessons begin again. However, that familiar pace isn't possible without a system of clocks to keep everyone on time.
There are many benefits to having a fully functional network of clocks in a school, so pay attention, class: your lesson on everything you need to know about school clocks is about to begin.
First, here are some of the benefits to having a system of reliable clocks:
School clocks keep everyone organized and on-time and help teachers provide their lessons in efficient fashion. By referencing an accurate clock, teachers can maximize every minute, and students can be keenly aware of time during testing.

Clocks automatically correct for Daylight Saving Time. There's no need to adjust clocks manually by going room-to-room.

A master clock can activate bells and then begin a countdown on digital clocks between classes.

A master clock can also be utilized to synchronize other equipment like phone and security systems.
Now that you know the benefits, its time to discuss which option fits your school. Here is an introduction to school clock solutions.
Wired Clocks — American Time's AllSync IQ master clock and system clocks are the most economical way to keep synchronized time. The AllSync IQ master clock works with existing and replacement clocks. Manage all the clocks and bell scheduling for your school from a computer or via the keypad on the master clock.


Wireless Clocks — SiteSync IQ from American Time is an excellent solution for keeping synchronized time to NIST without any special software. You can also produce a hybrid system of clocks using existing wired clocks and new wireless clocks — the best of both clock worlds, you might say. Wireless clocks are available in analog or digital formats.


IP Network Clocks — There are two types. Power over Ethernet (PoE) utilizes power and time keeping from your school's Ethernet connection while bypassing batteries and AC power sources. Wi-Fi clocks receive exact time from a time server and are extremely reliable, with little or no maintenance to worry about for up to five years.


Wall Clock — This device operates independently and reliably by itself, or by a radio signal such as the Atomic clock.
Founded in 1980, American Time is a powerhouse in the school clock industry. Our team of engineers and customer service experts are happy to help with any questions you may have about implementing or improving clocks in your school, the accessories you may need, and the associated costs.
Class is now dismissed...