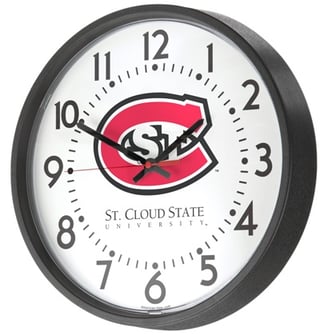 The frenzy of the NCAA basketball tournament is fast approaching, bringing school spirit to a fevered pitch across America. For the most die-hard fans among us, that means painting our faces in their school's colors.
But there are other kinds of faces you can adorn with school spirit — the ones on your clocks. People who run colleges take great pains to build school pride among students, and the clocks that are in every room across campus represent a great opportunity to build on that approach. People glance at the time all day long, so why not install custom clocks to broadcast a subtle, yet ubiquitous message of togetherness and school spirit?
Team Pride Means School Pride
Sports teams, and the mascots that represent them, often serve as the avatar of an academic institution. While advancing society through education and research are the core purposes of any higher education institution, a college or university's sports program is often the face of the school — a face represented by a mascot, whether it's a fierce warrior, regal bird, or even a grinning rodent.
So much of the important work going on in your institution happens behind closed doors and is too complicated for people to keep up with day to day. People can't flip on the TV to watch scientists working in a lab or professors conducting a lecture, but they can gain appreciation for their school by seeing its student-athletes battle it out on the hardwood or the turf. And the symbols that represent that sense of competition — your colors, mascot, and motto — serve as touchstones for your greater mission.
Customizing your clocks is one simple way to remind people of your purpose while fostering a sense of cohesion.
Protecting Your Clocks, and Your Colors
What better place to spread school pride throughout the campus than in the hallways and athletic facilities like gymnasiums and fitness centers? But equipment in these high traffic areas is more likely to be damaged due to all the activity.
So, consider placing wire guards over your clocks to ensure your investment stays intact, protected from soaring basketballs and excitable students.
Installing wire guards lets you focus on what matters, instead of scrambling to fix broken clocks. Maintenance technicians are already plenty busy, so fixing a clock may not be at the top of their to-do lists. Putting a wire guard over a clock prevents those extra headaches while saving you time and money in the long run.
Where to get customized clocks and wire guards
If you want to customize your clocks and protect those handsome devices with wire guards, American Time has you covered on both fronts.
In fact, we offer free clock customization on qualifying orders, making it easier to proudly display your school's name and logo or mascot throughout campus. Visit American Time's clock customization page to learn more.
Then, check out our wire guards here.