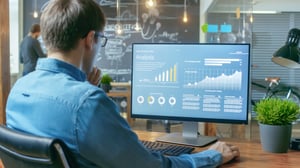 Remember when you had to go to places to run errands?
Of course, some people still prefer to physically go places, but it wasn't that long ago that if you wanted to deposit a check, you had no option other than to wait in line at the bank. Now you can use your phone to deposit a check.
If you're like most people, you've probably grown accustomed to using a computer and a web browser to take care of your routine business. Some common examples are shopping for new clothes online and conducting business meetings over video chat.
School maintenance workers and administrators can now experience this same convenience by accessing school bells through a web browser. For example, our AllSync® and SiteSync IQ® system can be used with Remote Connect to manage bell schedules. Here's how to reprogram your bell schedule.
1. Hands Off the Master Controller
A physical master controller determines bell schedules and makes sure that all connected clocks throughout a facility are displaying the correct time. You can alter time settings and bell schedules by using a keypad found on the master controller, but it might be easier to do so from your web browser, especially if your master is located up high.
If you're logging onto Remote Connect for the first time, follow the instructions beginning on page 33 of the Installation and User Manual.
2. Adding Events
Once you've logged into the Remote Connect page, you will see several tabs. To manage your bell schedule, click on the "EVENT" tab.
In Remote Connect, an "event" is anytime the bell sounds, such as to mark the beginning or end of a class period or work shift.
To determine the length the bell will ring, select the Duration drop-down menu and pick how long you'd like the bell to sound. Below the Duration option, you will find a drop-down menu where you will select the time your bell will sound.
3. Alter an Event
To alter a pre-existing event, double-click on that event under the "EVENT" tab. This will bring up the Event Edit window, which can also be reached by clicking the Add or Edit buttons on the bottom of the screen under the "EVENT" tab.
4. Determine Settings with Event Edit Window
Whether you are editing a pre-existing event or creating a new one, you will use the Event Edit window to determine your bell schedule. In the Event Edit window, begin by selecting the schedule you are working with and picking an event type. There are three event types from which to choose: regular events, special events, and schedule change.
Regular events reoccur as determined by you. Special events take place only at a specific date and time. Lastly, the schedule change option is reserved for changes planned for a specific day or unique instance.
5. Assigning Schedules to a Circuit
With Remote Connect, you can edit your bell schedule to greater detail under the "CIRCUIT" tab. There, you can pick the individual locations where you want certain schedules to apply.
For example, maybe you want "Schedule 1" to apply to the High School, while "Schedule 3" applies to the Middle School. You can alter the schedule names in the Edit Event window.
Further Assistance
If you have questions about remotely managing your bell schedule, American Time's technicians are standing by at 1-800-328-8996. You may also click SUPPORT in the top-right hand corner of the SiteSync IQ or AllSync Remote Connect page.