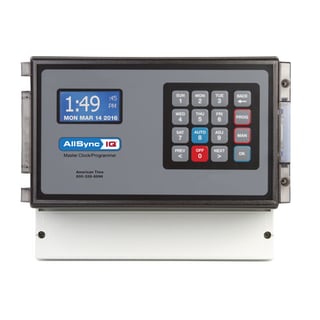 Remember the days when you would go to a place called a TV repair shop if your TV stopped working? A friendly technician would survey the damage, diagnose the problem, maybe order a new part or two, and make it as good as new.
Now, most consumer goods are disposable, but people do still fix some things. For example, the kind of clocks that are on the walls of schools, hospitals and other facilities around the world.
If one of the clocks on your clock system stops working, you have the option to either replace the broken part or replace the clock altogether. In either case, you can use American Time's AllSync, which is designed to work with most major clock systems - even the brands that are no longer manufactured.
A common call
A common replacement is the internal mechanism that makes the clock run. American Time's AllSync mechanism works as a replacement part for models made by a wide variety of clock brands, including Simplex, Cincinnati, Honeywell and Standard Electric.

American Time's customer support technicians can help you determine whether an AllSync Clock will work with your clocks. They're used to getting calls from customers seeking replacement parts for non-American Time products.
"It is very common," said Carmen Dimond, one of those clock experts.
It's best to know the model number when you call, but if you know your clock's size, voltage, and mount type, customer service technicians can tell you if AllSync is a fit. They may suggest sending-in the existing clock to get a new AllSync movement and circuit board, or they may suggest a new AllSync clock as a replacement. AllSync comes in 10-, 12- and 15-inch sizes.
Why AllSync?
You might wonder why someone would choose AllSync over the parts offered by the brand of clock they already own.
First, some brands are no longer manufactured, but AllSync is also a more affordable replacement because it's mechanisms use up to 80 percent less energy than comparable internal clock mechanisms. Of course, lowering electricity usage saves money, especially when you're talking about a facility with hundreds of clocks. But there's more to it than that.
The more clocks that are in use, the more often a component called a booster has to be installed to supplement the electrical current. Because AllSync uses less energy than is typical, it requires fewer boosters. In fact, it lets you run as many as five times as many clocks without having to resort to a booster.
Five-year warranty
It's especially convenient that AllSync offers the above benefits because the part called the movement, which turns the clock hands and is one of the components of AllSync, is often the first part of a clock to wear out.
"If they get dust and grit and dirt in there, they wear," Carmen explains.
"The movement in AllSync is different from many others in that it is solid-state," she adds. "It doesn't have the moving parts that other movements rely on, so there is less that can break down."
That's one reason American Time can offer a five-year warranty on AllSync instead of the two-year warranty that comes with most competing clock parts.
Click here to learn more about how American Time's AllSync Clocks are compatible with a variety of clock brands.