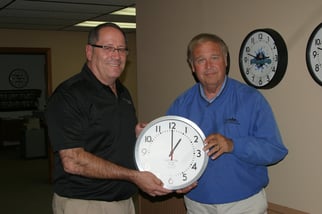 This article is courtesy of the Dassel-Cokato Enterprise Dispatch.
Jennifer Kotila-Staff Writer
State Representative Dean Urdahl (R-Grove City) made a stop in Dassel on his birthday Tuesday, August 22nd, to hear a presentation from and tour American Time.
Central Minnesota Manufacturer's Association coordinated the visit, and also a visit with State Senator Scott Newman (R-Hutchinson), which will take place October 14, 2015.
After introductions were made, and "Happy Birthday" wishes given, representatives of American Time told Urdahl about the company.
About American Time
American Time opened its doors in 1980 as a clock repair company, which allowed it to gain extensive knowledge of other companies synchronized clock systems as it grew.
Its knowledge of different systems allowed it to become the number one source for repair and replacement clocks, especially among companies and organizations that used several different clock system brands.
Eventually, American Time became a manufacturer and distributor of its own timekeeping systems, and currently employs 72 people at its Dassel headquarters.
Today, the company focuses on new technology to engineer enhanced timekeeping systems, such as its Wi-Fi Network Clocks, which were released in 2014.
"The company has always been sensitive to what customers want that they don't have," said Vice President of Sales Tom Foehrenbacher.
American Time is currently working on a new product, set to be released shortly, that integrates time, communication, and information into one system.
"I think what you are doing is impressive," Urdahl said of the company and its new products. "It's innovative. I see a lot of school districts being interested in this."
American Time's timekeeping systems are in more than half the school districts throughout the US, and are also used in government, health care, and manufacturing facilities.
It was also pointed out that the company was contacted by the White House when it needed synchronized time, and a 1920s brass clock from the White House was repaired at the Dassel headquarters.
The company is a "big time Minnesota company," designing, manufacturing, and assembling the clocks at American Time headquarters in Dassel, according to President George Wilkes.
The company purchases 44 percent of its components from Minnesota companies, and more than 70 percent of its components from companies in the greater Midwest.
One of the unique characteristics of American Time is the ability of its clocks to work with other system's master clocks, and its master clocks' abilities to work with other system's clocks, Wilkes noted.
"Customers don't have to throw away entire clock systems. We help them maintain what they already own," he said.
The company also offers free technology support to its customers for the life of the products it sells.
Throughout the lifetime of the company, more than 1.8 million clocks have been manufactured and sold.
It is successfully growing sales in the manufacturing sector, having released new products into the timekeeping market in the last several years.
The company received recognition for its Wi-Fi network clocks in Christian School Products magazine's "Top Products" list for 2014, which recommends best school products and services released for schools each year.
Challenges faced by American Time
Following the presentation about American Time, Urdahl asked what the company looks for from the State of Minnesota.
"To help us be as competitive as possible," Wilkes said. "By that, I mean make it easy to do business in Minnesota."
Some discussion took place about the differences between the cost of doing business in Minnesota compared to other states.
"You want us to level the competition with other states," Urdahl commented.
Another major concern of American Time is the cost of health care and its requirements.
"It's scary today," Wilkes said, adding that the costs continue to grow. "The more expensive increases will be difficult for us and employees."
Other challenges faced by the company include recruiting talent to Dassel, the length of time it takes some school districts to pass building referendums, and the risk, expense and experience needed to expand internationally.
"These are not challenges we look to our legislators to fix, they are just all the challenges of doing business in outstate Minnesota," Wilkes noted.
Following the presentation and discussion, Urdahl was given a tour of American Time headquarters by Sales Engineer Tom Nelson.