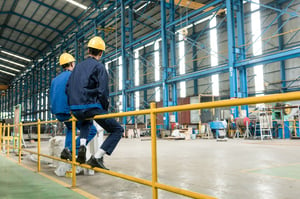 Inefficiencies in the workplace are not always easy to spot. You won't see employees literally setting $100 bills on fire, but inevitably, there will be times during the day when otherwise productive work hours might as well be going up in smoke.
And this isn't necessarily due to a lack of work ethic or motivation. At DMR Electronics, a manufacturer of industrial electronic components and wiring harnesses, employees sometimes had no other choice but to waste time standing around while waiting for meetings to get underway. But, it wasn't their fault. Since there was no single time source to rely on, their schedules were easily thrown out of whack.
The phenomenon led DMR to research synchronized clock systems, ultimately choosing American Time to bring an added sense of order to its daily operations.
Timekeeping Anarchy
Instead of relying on a single accurate time source that made sure all the clocks were in sync, DMR had a collection of atomic clocks that proved unreliable. So, employees counted on the clocks on their mobile phones or computers.
Such practices may seem harmless, but when everyone was referencing a different time source, it meant the facility wasn't running as well as it could. The lack of true synchronized time caused problems during shift changes and breaks, all while sowing unneeded controversy.
"There were lots of debates about whether an employee was really tardy or not, whether some people were abusing their break times by leaving early and returning late, and whether meetings were starting and ending on time," says Dave Rhode, plant operations manager.
New Facility Brings New Opportunity
DMR saw the chance to correct its timekeeping problems when it moved into a new 60,000-square-foot space. The new facility meant a new clock system, so the manufacturer took advantage of a free visit from American Time. The technicians assessed the company's needs, discussed the options, and even took some technical readings.
After some of his own additional research into clock systems, Rhode quickly chose American Time, opting for the SiteSync IQ wireless clock system and a 10-watt controller. Rhode completed his order with 40 assorted wireless clocks, which added a bit of company pride to the atmosphere by featuring DMR's logo for no extra charge.
With SiteSync IQ in place, the clocks now faithfully display a uniform time. To bolster its effectiveness, management made sure the new system was the only time source being used on the property.
"We don't even let employees bring in their own clocks," Rhode says.
Room to Grow
After making the move, DMR found itself in a fresh facility that was now operating on schedule, thanks to a truly synchronized clock system. But the company continues to plan its evolution.
"We want to eventually add another 40,000 square feet, and this system is expandable and able to grow with us," Rhode says.
When DMR does expand, it will be easy to add synchronized clocks as needed. As they add the wireless clocks to the system, the devices will be automatically detected by the master controller, removing one headache from what is sure to be a major expansion project.
For now, DMR is happy to be free from other sources of angst such as controversy at the punch clock.
"We have a rigid attendance policy," Rhode says, "and now we can enforce it with no debates."