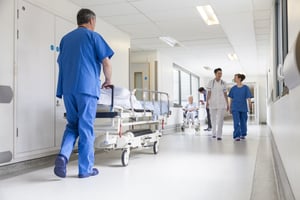 When an emergency strikes a bustling hospital, there's no time to think. In medical facilities, such as hospitals, that are constantly welcoming new faces, it can be even more chaotic. By their very nature, hospitals don't have the luxury of conducting comprehensive emergency drills, but you can still have a plan. That's where an emergency communication platform, like American Time's EverAlert®, serves a critical role.
EverAlert is a digital display system that combines synchronized timekeeping, emergency notifications and customizable signage, creating a network of informational nodes throughout your complex. Here are some of the most useful places to install EverAlert displays in your hospital or medical facility.
Hallways
Hospitals can be disorienting places. They're filled with long corridors, with doors that open up to other long corridors. To an already-apprehensive patient or visitor, it can look like a never-ending maze.
While you can't drill your emergency protocols into their heads, you can make sure everyone knows what to do when the unexpected occurs. Placing EverAlert displays in hallways is one way to make sure people are getting the right information exactly when and where they need it.
While EverAlert's digital displays can dispense messages, the system's most critical application comes when safety is on the line. Displaying emergency messages in the case of fire, severe weather, or another threat, EverAlert disseminates instructions and directs people based on an individual display's location in a facility, lessening confusion and panic.
Lobbies and Waiting Areas
It's not only a hospital's job to make people feel better physically, but to provide patients and their loved ones a sense of reassurance during trying times. Considering that, another effective location for EverAlert is your hospital's lobby and waiting rooms.
The clean, 21st-century look of an EverAlert display suggests a degree of modernism, professionalism, and organization, which is what people need to see when they enter a facility seeking help.
EverAlert can also include personal touches thanks to its digital display capabilities. For instance, it can be programmed to introduce patients to smiling doctors and nurses.
You can incorporate your hospital's branding, too, spreading promotional messages detailing the industry awards you've won, for example. All these facets of communication can be implemented on a rotating, customized basis.
Nurse's Stations
Venture further into the hospital, and the next sensible location for EverAlert is the nurse's station, the hub of activity, where, often times, the names of patients and doctors can be found scrawled on a whiteboard.
EverAlert is capable of streamlining and decluttering this area, replacing messy handwriting with a clean, easy-to-read display.
So, whether you're introducing your patients and visitors to award-winning doctors and programs or helping them in an emergency, EverAlert is an asset to your facility. Click here to learn more about how EverAlert can help your facility run smoother and safer.