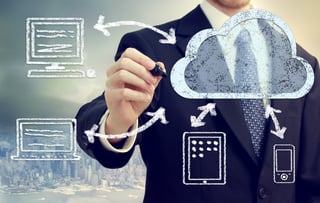 We've all heard a lot about this enigmatic entity called "the cloud," something you probably use every day for computer applications, data storage, or entertainment, whether you give it much thought or not.
And that's the beauty of it — the cloud is seamless, making it feel like the software you use and the data you consume is coming directly from your device, and not from … somewhere out there. You rarely think about it because you rarely have to.
The same technology is being applied to applications where the stakes are much higher than your regular data usage. That's where American Time's EverAlert® Emergency Communications Platform comes into play. EverAlert benefits from the cloud through security, ease of use, collaboration, and scalability.
What is EverAlert?
EverAlert is an integrated platform that includes an emergency notification system, digital signage network, and synchronized clock system.
Its emergency notification system sends out alarms and weather alerts, allows for customized messages and tones, and can notify authorities for rapid response when necessary. The customizable digital signage system delivers emergency messages and less urgent communications facility-wide while displaying the date and weather conditions. Additionally, EverAlert's clock system can be configured from room to room with features such as individual countdown timers.
All these benefits are made more practical and user-friendly with the cloud. Here's how.
Hands-Off Security
With EverAlert, you don't have to worry about coordinating IT services. Instead, those services are managed from within the cloud via Microsoft Azure.
According to Microsoft, cloud security has become so strong that people no longer view it as a drawback to migrating data off-site, but instead as a reason to make the move in the first place. The platform keeps your system safe while allowing you to access it from anywhere without worry about maintaining software.
Always Up to Date
There's no need to continually update software because the cloud makes sure you're using the optimal version without a second thought. So, when you need to spread an urgent message throughout a large facility, you won't be stuck staring at a loading bar.
Wide Scalability
Thanks to the cloud, you don't have to purchase and install software on every device throughout your facility. The EverAlert portal supports devices remotely, allowing for flexibility and scalability as you maintain an in-house communications network that leaves no corner untouched.
Easy Collaboration
Because of the decentralized nature of the cloud's end users, EverAlert can be accessed by multiple people simultaneously throughout your facility. For example, someone can make changes on one device, and those changes can be seen by someone accessing the system on the other end of the building. That way, you can be sure everyone is on the same page when it matters most.
The cloud helps make EverAlert a secure, complete emergency communications network that just works, without constantly demanding your time and resources. Click here to learn more about EverAlert.