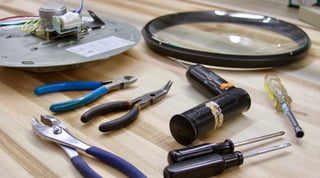 If you've repaired or refurbished anything, you know that having the right tools can make any job easier. Whether it's home improvement or fixing your vehicle, the correct tool can save you a lot of time, money and angst. The same can be said for clock repair, as a few tools can help you get a job done in no time.
Tools for Fixing a Clock
The tools needed for repairing a clock motor are two common items found in most garages: a wire cutter and a small point Phillips screwdriver. To execute the repair, lay the clock face down, which allows access to the back of the clock and the components in question. Use the screwdriver to loosen the bad components and replace. If you need to replace wiring, wire cutters can help you precisely snip the wire to its correct length.
The same tools can be used to repair the movement pieces on a clock. In this case, set the clock face up and remove the crystal and hands before accessing the back. Other tools you may need to get the job done in each case are a flat head screwdriver, a wrench, soldering iron, and a pair of needle nose pliers. Have some paper towels and a cleaning solution on hand to remove dust from the inside of the clock as well.
Tools for Testing a Clock
Once you've repaired the clock, you'll need to test it to ensure it works correctly. Building a testing device can challenge your engineering and creativity skills, but is worth the effort. Items needed here would be a power supply (for 24V AC) , some toggle switches, a Molex connector and a panel. This device will power your clock and supply a correction signal, allowing you to make sure the repairs are functioning correctly.
Precision tools are used by the professionals in each step of the production process at the factory. These tools may not be available to everyone, but a few common tools will allow you to fix your clock to make it work like new.