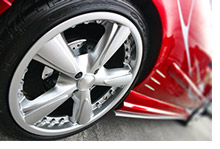 Something red and shiny caught my eye as I drove past a car lot earlier this week, so I did a quick 180 and pulled in for a closer look. Wow, a new 305 HP sports car. "Perfect," I thought, already daydreaming about the jaunts we could enjoy together. My reverie was interrupted by the voice of my favorite salesman, keys jangling in his hand. "Isn't that one of the prettiest cars you've ever seen?" he teased. "It's really fast and full of gas. Take it out for a spin to try it for yourself. Then we'll do the paperwork so you can drive it home."
My mind raced with reasons I needed this new vehicle. "What a great concept," I thought. "Try it before you buy it! I'll test it and, even if I don't buy it right now, I'll know how it operates and remember it for when I'm in the market for a new car."
An hour later, I pulled back into the dealership, a wide grin adorning my face. "That was an awesome experience," I thought. Then the light bulb went on "Hey, try it before you buy it isn't just for cars, it's also for the expanded line of ATS products that I need to tell our customers about!"
So here's the news. American Time & Signal Co. now offers you the opportunity to try four different systems and system clocks in your facility free for 30 days.
SiteSync IQ® Wireless Clock System: Guaranteed to wirelessly synchronize time and control any device with a signal circuit, such as clocks, bells, lights, PA systems, door locks. You can choose how to synchronize your facility or campus with NIST, the world's official time source, using CDMA cell phone tower signals, GPS satellite signals or Ethernet local area network (LAN) connection.
AllSync IQ® Wired Master Clocks: Lets you remotely manage all your equipment from the convenience of your computer and works as a perfect team with AllSync Plus® Clocks.
AllSync Plus Clocks: Cost 28 percent less than mechanical clocks, are guaranteed for five years and automatically adapt to most existing systems.
Power over Ethernet Clocks: Deliver both power and time updates through one cable connected to your facility's Ethernet.
We want you to take these clocks and systems out for your own test drive, so please call the Clock Experts at 800-328-8996 for information on getting started with your free 30-trial of the industry's best timekeeping solutions.