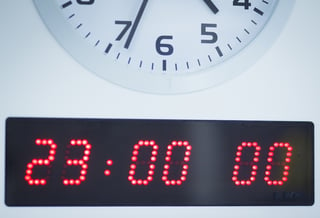 The decision arises in all sorts of consumer scenarios: classic versus modern. Maybe you're remodeling your home and you have to choose between dark trim or something light and airy. Perhaps you're trying to decide where to eat dinner, and it comes down to the steakhouse that's been there forever or the trendy new restaurant you've been itching to try.
Or, maybe you were shopping for a watch and had to ponder the benefits of analog versus digital. Your evaluation process of analog versus digital when selecting a new watch probably isn't all that different from picking what kind of clocks to install in your facility. It's just that when it comes to selecting a clock, you've got the needs of potentially thousands of people to consider.
To help you make the call, we'll lay out the advantages and some considerations to make when choosing analog clocks.
Benefits Large Facilities
If you're purchasing a large number of clocks, there are a couple reasons analog might be the best choice.
For starters, analog clocks are typically less expensive. If you have a large facility that requires the installation of hundreds of clocks, this could be a major factor, especially if your budget is tight.
Analog clocks can also help you realize a cost savings beyond the initial purchase price. They are more energy efficient than digital displays, which is not only good for your bottom line, but can also help you reach your energy reduction goals. Many of them are powered with AA battery packs, that extend maintenance free operation for several years without replacement. With many facilities placing an emphasis on "going green" these days, maybe you'll want to go analog, as well.
One large facility that benefited from installing a synchronized time system was Lowe's. Click the button below to learn how they solved their time keeping problem by installing a SiteSync IQ wireless clock system and transmitter, along with a mix of both analog and digital clocks.
Achieves that Classic Feel
Your decision whether to purchase analog clocks might also come down to the atmosphere you're trying to create in your building. Do you run a school where you're going for the classic academic feel in the classrooms? Analog clocks might help in that aim.
Analog clocks provide an element of aesthetic flexibility, too. Digital read-outs all look relatively the same, but analog clock faces come in a wider variety of styles. You have more options for the finish, too, whether that be steel or aluminum casing, plastic molding, or wood trim – you can take that one step further and customize the clock face with your logo or branding.
Another way analog clocks can affect a room is by the movement of the hands. Have you ever caught yourself staring at a digital clock, waiting for the numbers to change as a minute goes by? On analog clocks, hands moving around the dial can be reassuring for some, representing the smooth passage of time.
Readability Distances
While there are plenty of reasons analog clocks might be the right choice for you, they do have their drawbacks compared to digital.
Perhaps most importantly, analog clocks aren't as readable from greater distances or in low light areas. That could be an important consideration if your facility has large rooms or long hallways. A digital model with four-inch-tall digits is readable from 250 feet away.
Analog clocks are also less than ideal for those with poor vision, something worth considering if you run a nursing home or a senior center.
Another drawback of analog clocks is that not everybody can tell time. Whether you serve young children or people with learning disabilities, it's something to consider.
While having to squint to tell the time or needing to take a second to process the information might be a mere inconvenience for some, the stakes are higher in certain settings. Hospital staff are always looking at the clock, whether they're keeping records or maintaining care schedules. And in the operating room, doctors and nurses need to be keenly aware of the time, meaning analog clocks might not be the best option for their purposes.
Fewer Bells and Whistles (Literally)
If you are just looking to tell accurate time, analog clocks are a great choice. But they don't offer the added features that come with many digital clocks. With digital clocks, schools can benefit from countdown timers during passing time, or emergency alert systems that can be integrated into digital clock systems. Analog clocks are limited in the information they can deliver.
So, whether you've decided on a classic analog clock, or appreciate the benefits of the digital variety, you're likely to find a time-keeping option to suit your needs at American Time. We offer both digital and analog clocks in a variety of feature sets and styles.