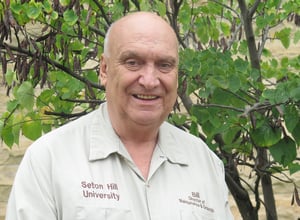 When your work becomes more than just a job, others begin to take notice. That's why Bill Vokes, director of maintenance and grounds at Seton Hill University in Greensburg, Pennsylvania, was named our 2018 Maintenance Hero. Bill received more than a dozen nominations from colleagues who praised his dedication to the institution.
The contest, which launched last year, was open to any organization in any industry that wished to nominate a valued maintenance professional who routinely goes above and beyond in the workplace but receives little recognition for it. Bill received $3,000 in American Time product credit for taking first place. Jeannie Donovan, head custodian at Sylvania Northview High School in Sylvania, Ohio, and Mel O'Campo, facilities manager at Santa Maria Foursquare Church in Santa Maria, California, were the runners-up. Each runner-up received $1,000 in American Time product credit.
We learned a lot about each nominee thanks to those that provided nominations. Here's what we learned about Bill.
50 Years of Dedication
Bill celebrated 50 years with Seton Hill University earlier this month. As the director of maintenance, he ensures a safe, clean, healthy, and welcoming educational environment for all who enter the campus. But he also puts students at the center of all he does.
For example, when a classroom was inaccessible for two students with a wheelchair, Bill and his team installed cement pavers overnight so the students could enter from a different doorway. But the grade of the ramp was steep, and it was difficult for the students to wheel themselves into the room. Once again, Bill took it upon himself to schedule a staff member to assist each student to and from that classroom the entire semester. "Although this was not technically Mr. Vokes' job, he would not allow a student to be in need," one nominator wrote. "Bill cares for and treats both the institution and its people as his family." It's only one example of the type of man, employee, colleague, and director he is.
Another nominator recalls the moment she first laid eyes on the campus. "From the day I set foot on campus, I was instantly struck by both the beauty of the grounds and the condition of our historic buildings," she wrote. "I quickly came to learn that Bill Vokes, the director of maintenance and grounds, was the leader responsible."
A Man With a Great Attitude
Not only does Bill put heart into what he does, but he does it with unwavering optimism. "Bill is a proactive leader who responds to all requests with cheerfulness," another nominator wrote. "He is always smiling and prepared to assist."
A different colleague said it this way. "When asked, 'How are you?' Bill's usual response is, 'I'm living the dream,'" he said. "Bill possesses a high level of enthusiasm for his work and is respected deeply by his team and by all members of the university community."
It seems nothing can stop this maintenance hero, although he did experience a health scare last spring. Even from his hospital room, he was thinking of Seton's students. "He was very disappointed to miss his first graduation because he didn't get to see his students march across the stage," a nominator wrote. But Bill still ensured everything ran smoothly from his hospital bed. He returned to work a few months later "happier than ever," as one nominator puts it.
"Bill is a joy to work with," a colleague wrote. "He is a humble man, who takes pride in his work and ownership for our campus. He is kind, patient, and an excellent teacher and mentor to his team."
It will be a sad day when Bill decides to hang up his hat at Seton Hill University. For now, the students, staff, and faculty will treasure his hard work and friendly demeanor.
"He has a wonderful work ethic and a great sense of humor," one nominator wrote. "It is hard to imagine this place without him whenever that day comes!"
Praise for the Runners-Up
Jeannie Donovan's nominators praised her outstanding leadership skills, which helped transform Sylvania Northview High School's campus from "disorganized" to "clean and well-functioning." Since Jeannie joined the school, she's also built a strong team with a similar drive. "This is subtle, but give me a team of hard workers who will not settle and there is nothing we cannot do," one nominator wrote.
Aside from her work ethic, Jeannie's colleagues take note of her exceptional attitude. "Jeannie's sense of humor reminds me daily that life is good, and that this is a wonderful place to come to work each day," one nominator wrote. "Her sense of levity has a similar impact on students, teachers, and parents she helps." And she cares deeply for the students. "She treats them like she would her own children," the nominator wrote.
Similarly, runner-up Mel O'Campo's colleagues highlighted his astounding work ethic at Santa Maria Foursquare Church. "Mel is one of the most loyal, hard-working people you will ever meet," one nominator wrote. "He takes pride in his work and goes way beyond his normal duties with a smile on his face."
But Mel does more than work hard, he loves hard, too. In addition to maintaining the three-acre campus, Mel often works with individuals completing community service through the court system. Rather than providing them with a task to complete and sending them on their way, he takes the time to listen to them, share his own experiences, and encourages them to make a positive future for themselves. "It's incredible to watch him pour into others," one nominator said. "He's an inspiration to our staff, our church family, and our community."
We're honored to recognize people like Bill, Jeannie, and Mel, who continue to make other's jobs easier and more enjoyable. And we look forward to our 2019 Maintenance Hero Contest.