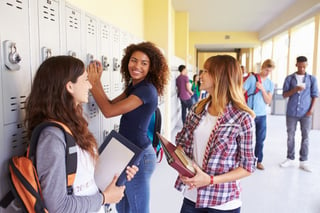 Years ago, wired clock systems were the standard, reliable method to keep synchronized time in schools and businesses. Today, those clocks are still manufactured, but there are also wireless options, which utilize more modern technology to transform timekeeping.
So, which solution is best for your school or facilities?
Similarities Between Wired and Wireless Systems
Both wired and wireless systems use a master clock (also known as a system controller) to stay updated on the correct time and maintain synchronization among the clocks in the system. Likewise, the controllers in both type of systems automatically update for Daylight Saving Time changes, are easily programmed via a web interface, can schedule various systems to switch ON/OFF automatically, and can control 12- or 24-hour formats for digital clocks.
Beyond these basic similarities, however, wired and wireless systems are very different.
Wired Clock System
A wired timekeeping system has a master clock that is physically wired to each clock in a building and, using an Ethernet connection to a time server, controls the displayed time to maintain synchronization. In most wired systems, the master clock utilizes a dual correction scheme. The correction protocols often vary between models and manufacturers, but typically synchronizes the minute and second hands every hour, along with a 12-hour correction to keep the hour hand synchronized. This ensures that the clocks will automatically correct after most prolonged power outages, while still keeping the synchronization correction mostly unnoticeable.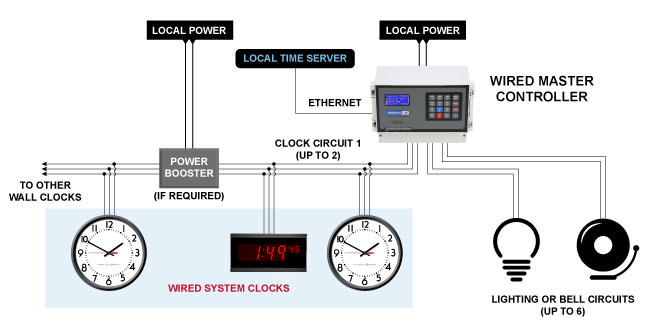 Schools traditionally used wired clock systems for two basic reasons: rock solid reliability and the ability to synchronize school bells to the rest of the system. The wired synchronized system ensured that clocks would all read the same time and bells would ring at the same time every day, no matter what classroom you were in, and that students would arrive to class on time — something teachers could only dream of before installing a synchronized system.
The AllSync Plus® system from American Time, like all wired systems, has fewer moving parts and uses a physically hard-wired connection between the master clock and system clocks, which makes them more reliable and easier to maintain. AllSync Plus clocks offer several benefits including:
Hassle-Free Accuracy — Accurate to ± 1 second to the master clock.
Remote Access — Remotely manage all your equipment from the convenience of any device with an internet connection and web browser.
Energy Saving — Uses up to 80% less energy than regular mechanical clocks.
Plug and Play — Easy to install clocks because AllSync Plus clocks are shipped with our polarized, color-coded Molex® plug.
Backup Plan — An internal capacitor keeps all clocks running for up to 15 minutes without batteries in the event of a power outage.
Wireless Clock System
Wireless clock systems harness the power of radio signals to provide the same functionality of a wired system without the physical infrastructure requirements. Instead of running wires between the master clock and every system clocks, the master clock transmits a correction signal to the clocks to maintain wireless synchronization, making it an ideal solution for buildings without existing wiring for synchronized clocks or for expanding an existing wired system without needing to install additional wiring.
These systems offer the same superb accuracy as wired systems, and can also synchronize school bells and other equipment, thanks to the power of wireless relays.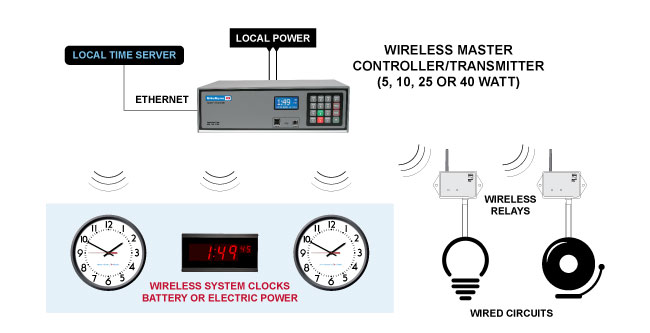 Advanced wireless clock systems like our SiteSync IQ® can seamlessly integrate with existing wired systems or function independently to create a completely new wireless system. Like the wired AllSync system, the SiteSync IQ system can be remotely managed. The SiteSync IQ system is versatile, with many benefits:
Best of Both Worlds — A hybrid solution can create a clock system that runs your existing wired clocks and wireless clocks. This helps you add wireless clocks when and where you choose to based on your budget.
The Sky's the Limit —An unlimited number of clocks can use the time synchronization signal. Coverage is completed using a single transmitter with a choice of 5 watt to 30 watt system controllers.
Batteries with a Long Life — American Time clocks with Battery Booster Packs last up to 5 years, meaning battery clocks can be installed in any location and provide years of maintenance-free service.
Plug It In — Electric is an option too, with only the power source requiring a wire.
These are just a few of the features available for each clock system option. To get answers specific to your building's needs, contact American Time for a free consultation. A clock adviser will assess your existing timekeeping system and help you determine the best solution for your current and future needs.