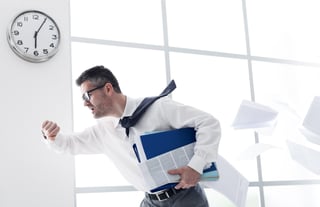 A long time ago in a galaxy far, far away... wired clocks were the standard, reliable method to keep synchronized time in schools and businesses. Today, those clocks are even better, but there are also wireless options, utilizing 21st Century technology to transform timekeeping. So, which solution is best for your school or facilities? Here is a quick comparison of wired master time clocks vs. wireless master time clocks to help you make the decision.
Similarities in Master Clocks
Master clocks can do many of the same things and have the same benefits whether you choose wired or wireless. For example, master clocks automatically change for Daylight Saving Time, they are easily programmed via a web interface, they can schedule various systems to switch ON/OFF automatically, and they can be set for either 12- or 24-hour formats. But despite many similarities, wired and wireless master clocks are also very different.
Wired Master Time Clocks
A wired timekeeping system has a master clock that is wired to each clock in a building and controls the displayed time to uphold synchronization. In most wired systems, the master clock utilizes a dual correction scheme. The correction protocol may vary between models and manufacturers, but typically has an hourly correction for the minutes and seconds along with a 12-hour correction for the hour hand. This assures that even the most prolonged power outages will be compensated for automatically.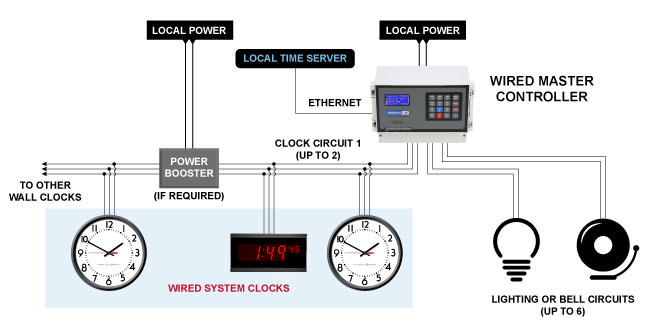 Schools traditionally used wired clock systems for two basic reasons: rock solid reliability and the ability to synchronize school bells to the rest of the system. The wired and synchronized system ensured that the bells would ring at the same time, no matter what classroom you were in, every day and that students would arrive to class on time — something teachers could only dream about before installing a synchronized system.
Wired systems, like American Time's AllSync Plus®, have fewer moving parts, which make them more reliable and easier to maintain. If you purchase one of our AllSync Plus® clocks, you'll experience several benefits including:
Hassle-Free Accuracy — Accurate to ± 1 second to the master clock.
Remote Control Access — Remotely manage all your equipment from the convenience of any computer with an internet connection.
Energy Saving — Uses up to 80% less energy than regular mechanical clocks.
Plug and Play — Easy to change clocks because AllSync Plus clocks are shipped with our polarized, color-coded Molex plug. If you have any questions, a technical expert can help walk you through the installation process.
Backup Plan — An internal capacitor keeps all clocks running for up to 15 minutes without batteries in the event of a power outage.
Wireless Master Time Clocks
A wireless system's controller receives a time signal from GPS satellites, cell phone towers, or the internet. A signal is sent to each wireless clock using a radio frequency. Wireless clocks offer superb accuracy and can synchronize school bells, thanks to the power of wireless relays.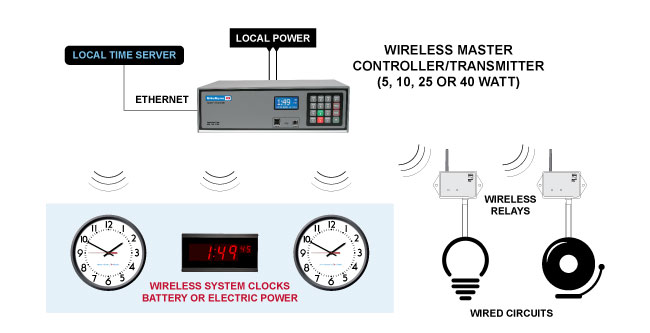 But some systems, like ours, can also seamlessly integrate a new wireless clock system with existing wired systems. For example, our SiteSync IQ Ethernet time sync feature allows you to adjust clocks and schedules from any computer connected to the internet through the Remote Connect web interface. This is beneficial in a number of ways:
Best of Both Worlds — A hybrid solution can create a clock system that runs your existing wired clocks and wireless clocks. This helps you add wireless clocks when and where you choose to based on your budget.
The Sky's the Limit —An unlimited number of clocks can use the time synchronization signal. Coverage is completed using a single transmitter with a choice of 5 watt to 40 watt system controllers.
Batteries with a Long Life — Set it and forget it. Batteries can now last up to five years, like American Time's Battery Booster Pack.
Plug It In — Electric is an option too, with only the power source requiring a wire.
These are just a few of the features available for each clock option. American Time also provides free, clock consults for schools and businesses. A clock adviser will assess your existing timekeeping system and help you determine your current and future needs.
Only time will tell whether wired clocks or wireless clocks will rule the galaxy, or your facility.