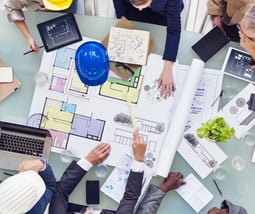 Have you ever taken on a major project in your home and wished you could just start from scratch and rebuild the house from the ground up?
If you buy an older home that has baseboard heating, for instance, it's difficult and expensive to install ductwork for a central AC system. But, if you build a new home, it's easy to plan for ductwork, and your options are limitless. The same is true for PoE clock systems.
PoE, which stands for power over ethernet, requires wiring to each clock, so it's challenging to add it after a building is constructed. However, if you're starting fresh and need to spec a PoE system, here's what you need to know.
Technical Requirements
The first thing to be aware of when installing a PoE system is what kind of digital infrastructure your building will use.
PoE clocks operate on the power over ethernet IEEE802.3af standard, and work with both DHCP and static IP addressing schemes.
With DHCP, or dynamic host configuration protocol, the server automatically configures IP addresses. With static IP addressing, the less popular of the two, the IP addresses don't change.
In addition to network considerations, it is wise to install an uninterruptible Power Supply (UPS) as part of the ethernet system. A UPS backup will maintain clock function during a power outage.
You'll also want to make sure you have the necessary software for your new system. To manage the buzzer option on American Time PoE clocks, for example, you'll need the Network Clock Connect software, which schedules and manages events.
Planning
When you start thinking about wiring, you'll see why it's more common for PoE clocks to be installed in a new build, since the network requires wiring to each clock.
To ensure your building is wired properly, think about all the classrooms, offices, hallways, and meeting spaces where you want the clocks installed. That will help you avoid the headaches that come with patching in new wiring.
And speaking of wiring, don't overlook its cost. To estimate that, get help from an electrical contractor who can help you establish your budget. Keep in mind the maximum cable length of 100 meters (~330ft) between the switch or power source and the clock. If you need help, American Time offers consultations.
Benefits of PoE
The defining characteristic of PoE is that, using a CAT5 or higher Ethernet patch cable, it delivers both power and a time signal to your clocks. This eliminates a number of technical considerations that might otherwise be necessary while also saving on installation and maintenance costs.
With PoE, you don't have to worry about installing the master clock that other types of systems require. This means one fewer potential complication and less time spent on maintenance.
As for the clocks themselves, you can choose either analog or digital. Oftentimes, a mix of both is employed. A popular approach in a school, for instance, is to install analog clocks in the classrooms, while putting the digital clocks in the hallways. Digital clocks are easier to read from long distances and can be programmed to countdown the time between class periods.
So, if you're starting a new build and you're looking for a low maintenance synchronized clock system, PoE might be your best option. Click here to learn more about American Time's PoE clocks.