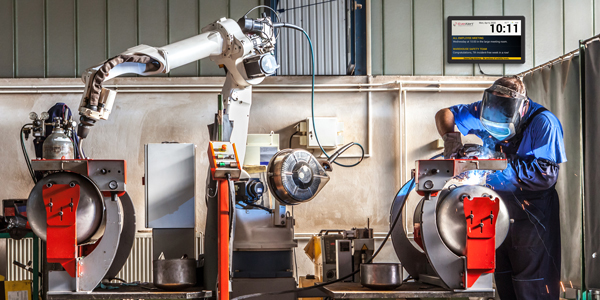 As manufacturers race to stay competitive in an uncertain market, the importance of using digital technology to support efficient operations and engaged employees becomes more urgent. According to Manufacturing Global, "Many CIOs in the manufacturing sector view increasing operational efficiency and transforming the business as imperative to driving technology investments. With this in mind, IT platforms should provide the integration and coordination required for success."
Digital communication platforms are particularly effective for strengthening the connection between company strategy and production floor tactics. When leveraged for both routine daily messaging, as well as in critical emergency situations, the right communications technology for manufacturers can drive faster, more efficient communications that keep employees informed, engaged and safe.
From the Office to the Floor: Leveraging Digital Communications in Manufacturing
A single communications platform is a cloud-based technology that displays daily messages and emergency alerts on screens of nearly any size and any location, such as a breakroom, hallway, office or production floor. Its key benefits include….
Keeping employees informed with daily news and reminders delivered via large-format, company-branded displays

Instantly notifying employees of threats – like fires, weather alerts and lockdowns - with visual and audio alerts that will grab attention (even in loud environments)

Reducing downtime by immediately broadcasting changes to work orders or priorities

Creating and delivering custom messages facility-wide or by department, area or room, such as productivity goals, daily metrics or meeting reminders

Keeping everyone efficient and on schedule with built-in synchronized clock displays

Driving efficiency and precise shift changes with built-in synchronized time and buzzer systems.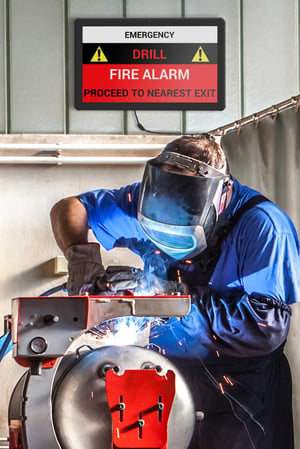 Messages can also be configured to automatically display when certain events occur. For instance, a supervisor can trigger the platform to display alerts and instructions if there is a medical emergency or threatening equipment malfunction. If the platform is integrated with the fire alarm system, the system can automatically trigger the platform to display area-specific instructions for exiting the building, along with audible alarms.
Track Metrics
For companies using Continuous Improvement, Lean principles or other approaches for improving efficiency and productivity, a digital communication platform is a visual way to display progress toward these goals, such as time spent on a project, days since the last safety incident, and more.
Reduce Downtime
White boards and emails don't cut it when it comes to clearly delivering essential daily news and safety information to your workforce. Display screens on a production floor can communicate important work reminders, such as safety reminders or job-specific messages to reinforce key communications of the day.
If a job suddenly changes mid-day or priorities for a project change, a communication platform can display those reminders to employees and reinforce what has been communicated by management. This eliminates confusion and helps keep downtime to a minimum!

Protect Employees' Safety
A digital communication platform is an important redundancy in emergency situations. From lockdown drills to medical emergencies, the displays can immediately communicate what action employees need to take. In loud settings, a flashing screen can catch the attention those who may not hear an alarm because of ambient noise or an impairment.
The EverAlert Communication Platform: Productivity, Efficiency and Safety
EverAlert from American Time is a unique communications platform that manufacturers can lean on to create a more productive, engaged, and safe experience for employees. This cloud-based, multi-functional platform delivers digital messaging, emergency notifications and synchronized time across a building or an entire campus.
Safety and Security
EverAlert delivers visual and audio alerts during emergency situations such as medical emergencies, equipment failures, lockdowns, and even severe weather such as a tornado warning. These alerts can be accompanied by instructions that are specific to a room or area of the production floor, such as "Use Stairwell B to Exit."
Seamless communication when emergency bells and systems are triggered

Visual cues give clear instructions to those working in loud environments or those with hearing impairments

Ability to integrate with systems like fire, overhead announcement systems, and lockdown via a contact closure relay, which triggers EverAlert screens to display pre-written messages and directions.

Integration with NOAA for severe weather alerts, watches and warnings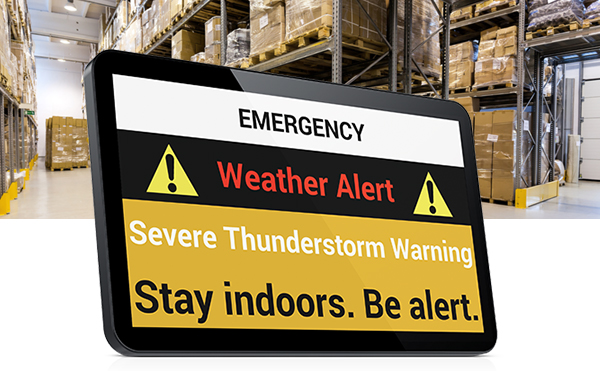 Effective Communications
Use EverAlert to display daily company news, reminders and updates. Flexible messaging options deliver the right message to the right audience at the right time!
Share messages by room or department to minimize the use of distracting overhead speaker systems

Pre-load message templates or customize your own messages

Analog or digital clocks display options keep everyone on time and minimize the need for a separate clock system
Blend in with the Brand
EverAlert displays are sleek, simple and elegant.
Screens can include colors and images to reflect the company brand

Reinforce brand pride

Ability to display a variety of screen sizes to best match each area's needs
EverAlert's broad capabilities deliver a daily value that helps create a more productive, engaged and safe experience for everyone!
---