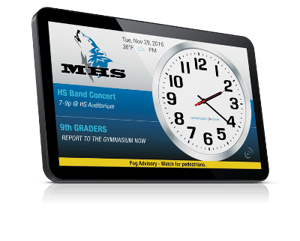 For many, spring means sunshine, rain, flowers, warmer weather, and often, a renewed enthusiasm to spend time outdoors. For schools administrators, however, spring also means tornado drills, updating emergency plans, and tracking inclement weather. In fact, many states dedicate an entire week to severe weather awareness during this time of year.
With an average of 1,253 tornados touching down in the U.S. annually, there's only one thing you can do about severe weather: prepare like it's inevitable.
When it comes to school safety, preparedness is vital. Communication is at the core of severe weather preparation and EverAlert® makes this possible for students and staff. Here's how:
Reduces Complexity
EverAlert is a comprehensive emergency communications system that integrates visual displays and audio messages with the capability to coordinate thousands of people when a sense of urgency arises.
While some schools rely on different vendors and devices to warn students about severe weather, those that use EverAlert can monitor weather, daily messaging and emergency notifications all under one platform. This eases worry about whether or not students will be properly informed in the case of a severe storm. In fact, EverAlert is actually synced to the National Oceanic and Atmospheric Administration. So, any time NOAA issues a severe weather watch or warning, it automatically displays on your EverAlert system.
Communicates Your Plan
Officials in charge of promoting safety in the face of dangerous weather tell the public to make sure they have a plan in place when storms hit.
The same is true for school leaders. These individuals are told to update their emergency procedures and make sure everyone in the building or on campus is aware of the plans with maps to shelter areas and descriptions of procedures placed prominently in hallways and rooms.
School leaders also know that emergency preparation is similar to other aspects of learning: drill, drill, drill. Severe weather drills are important enough that states establish times for all schools to practice their action plans at once.
Spreads the Word
Since preparation means communication, EverAlert comes with a customizable user interface for managing emergency alerts and digital signage in addition to everyday features like synchronized clocks' visual displays. With the comprehensive system, users can disseminate customized tones, audio and visual messages campus-wide, building-wide, and from room to room.
Additionally, EverAlert streamlines response procedures by automatically alerting campus or community authorities during some emergency scenarios. Two examples being a lockdown situation or a triggered fire alarm.

National Weather Service Advice
The unpredictable nature of the skies means educators are responsible for so much more than academic rigor, a reality the National Weather Service acknowledges by publishing a guide for building and campus leaders to follow as they take the necessary precautions.
Click here to learn more about how EverAlert makes it easier to prepare for severe weather and to respond as necessary when it happens.