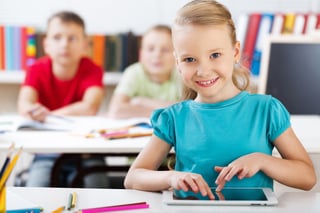 When we think of smart technology, the first devices that may come to mind are smart phones, tablets and notebooks. Well, you can add school clock systems to that list. New technology surrounding these systems means that keeping time and keeping kids safe is now one bundled solution that falls under the smart technology umbrella.
School Clock Systems: The Times, They are a Changin'
Like the Bob Dylan song, the technology of school clocks systems is rapidly evolving. Many of us are familiar with synchronized school clocks that keep consistent time throughout a school, keeping kids and adults on task. The similarly synchronized systems of fire alarms, weather alerts, and digital signage were their own separate entities. Today, new technology exists where these functions operate together in a single solution, and EverAlert from American Time is an excellent way to keep students and staff safe, while they work and learn efficiently all year long.
Here's how it works: EverAlert combines multiple features in a single platform — it allows a school to keep synchronous time all day every day...that's the easy part. In unusual situations, EverAlert sets itself apart by alerting everyone to lock downs, fires and weather threats. When dangerous situations arise, EverAlert uses smart networking technology to get the message out, using one user interface to manage displays for clock, emergency notification, and routine communication functions. Administrators and emergency professionals are also notified with audio and text messages and email, promoting a quicker response. Students and teachers become aware of threats thanks to easy-to-read messages in classrooms and other gathering spots like lunchrooms and gyms.
Installing EverAlert: Keeping it Simple
EverAlert system administrators benefit thanks to ease of use that requires almost no training. One of the many benefits of EverAlert is easy installation. Sometimes, new technologies can be confusing and intimidating. EverAlert features plug and play hardware installation and a software interface that requires little training and quick access to online help. When replacing legacy clocks and mounting the new brackets and displays, a screwdriver and electric drill may be the only items taken out of the tool box. The important requirements for installation of the hardware are access to 120 VAC power, and either a wired or wireless Ethernet signal. American Time technical experts are a phone call away to assist with any of these tasks.
Funding for New School Clock Technology
New technology can make the user nervous and put pressure on the pocketbook. When purchasing new school clock technology, grants are more often available for schools that want a solution that improves safety and security, while keeping reliable time. School procurement professionals can typically stretch their budget and reduce costs by bundling all three features together, instead of buying each separately.
For more information on American Time's communications solution, click here