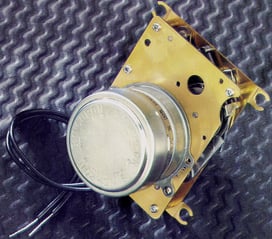 We get calls every day from folks searching for Synchron Motors, sometimes also known as Hanson motors or movement motors.
Synchron motors can show up in lots of places. They're frequently encountered in mechanically animated advertising signs, damper controls on HVAC, water heaters and other electrical equipment.
These motors were also commonly used in synchronized clocks, particularly those tied to legacy wired clock systems from companies like Cincinnati, Faraday, Edwards, Simplex, and American Time.
While many of the complete clock movements using Synchron motors are now obsolete, we are still able to provide the motors themselves in some cases.
But, for those clocks where movements just aren't available anymore, there are still options.
Whether it's for a clock or something else using a Synchron motor, let's take a look at how we can find the parts you need.
The Information Printed on the Motor: What it Means
When customers call for a replacement motor, they are often holding the motor they need to replace. We ask them for the information printed on the side of the housing, including voltage, speed and model number, which makes it easy to identify exactly what they need.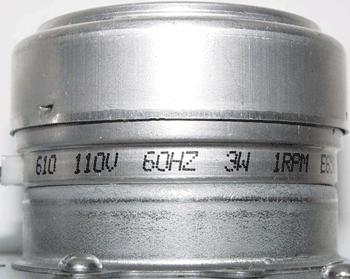 The voltage and other specifications are first, followed by speed and model number. In the picture shown above, you'll see "110V" defining the motor voltage, then "60Hz" for the frequency. The "3W" indicates the wattage and the "1RPM" indicates the speed, which may also list "1RPH" or "1RPD" for other motor speeds.
The model number will also be listed on the motor. Synchron motors often display the same model number for different voltages, which is why the initial specifications are so important.
That takes care of finding a replacement motor. But what happens if you're repairing a clock and the whole movement is bad?
Solutions for Obsolete Movements
We're still able to supply a limited number of complete clock movements, but sourcing components for these parts becomes more challenging with each passing year.
The good news is that an obsolete movement doesn't mean your clock is destined for the scrap heap. Our AllSync Plus® repair kits are an easy-to-install replacement movement that can synchronize with a variety of existing systems or our AllSync IQ® wired system.
In the event you've got a clock that's completely beyond repair, AllSync Plus replacement clocks might be right for you. Capable of automatically synchronizing with your existing master clock, AllSync Plus clocks can be a cost-effective and energy-efficient way of getting some new life out of an old clock system.
Not sure which option is best for you?
Our experienced and dedicated team of clock experts is just a click or call away!