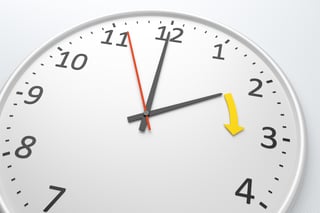 How long will you let the clock in your car show the wrong digits after Daylight Saving Time kicks-in on March 11? A day? A month? Do you just ride it out and wait for the time to switch back?
You might be able to get away with such a carefree approach in your personal vehicle, but it's different if it's your job to keep a facility running smoothly – be it a school, hospital or factory. So, if you need to make sure your clocks are on time all the time, here are a few ways you can prepare to spring forward.
Automatic updating
Many problems can be avoided at the outset if you have a clock system that automatically syncs to Daylight Saving Time. A system that makes the transition seamless means less chance of disruption as the clocks move ahead an hour.
The transition goes over best when no one notices it. That means your meetings continue to start on time, or students get to class before the bell.
Such a smooth transition means you can address other maintenance needs in the building. Because really, who needs to spend a lot of time worrying about their clocks? You've got boilers, pipes, lights and electronics galore that need to keep working.
Test your system: The time is right
There's no better time to test your clock system than during the run-up to Daylight Saving Time. Testing to be sure your clocks are in sync is a good practice, and knowing they're in working order will prevent headaches during the time change.
Below are some ways to check American Time system clocks, all of which update to Daylight Saving Time automatically.
Remove from power source
To be sure a wired clock is syncing correctly and ready for the time change, unplug it and wait an hour before plugging it back in. It should re-sync as it receives the time signal, a process that could take up to 24 hours, depending on the type of clock.
For a wireless clock, remove the battery and wait for the clock to come to a complete stop before reinstalling the battery. The clock should re-sync automatically within 24 hours.
Check your settings
Once you know your clocks are syncing correctly, you can further ensure a smooth start of Daylight Saving Time by making sure your system settings are dialed in.
That includes checking that your system controller displays the correct time, time zone and Daylight Saving Time setting.
You should also inspect the clock's network settings. Here's how to check those settings for various clock types:
Wi-Fi clocks – Check your network settings including SSID, passphrase and time server.
PoE (Power over Ethernet) clocks – Check your network time servers and the cables running from your network to the clock.
SiteSync IQ: Check the power at the system controller.
If you find a problem ...
If this series of tests reveal a problem, you have some avenues for troubleshooting. First, check the system's connections, such as power cables, antennas, and plugs.
If you are running wireless clocks, check their battery life. If the voltage is better than 1.5 volts, the batteries should survive the time change without problems. If they need to be changed, make sure you use all new batteries.
If your network settings have changed or your clocks fail to reset, you can contact American Time support at 1-800-328-8996 for further assistance.