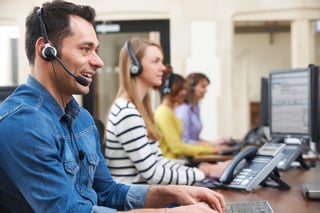 "Our number one mission is to really understand what the customer's expectations are, and then exceed them," says Kathy Wulf, director of client services at American Time, when asked about customer service.
"We focus on building strong relationships with our clients by finding ways to really listen to each customer, determine their pain points, and walk them through different options and solutions."
You Talk to a Real Person on the Phone
At American Time, our customer service center doesn't use an automated phone system. Instead, the goal is to get a customer in touch with a real person within 30 seconds.
"If they do have an issue or pain point, what is it and how do we help them? We try to go above and beyond when it comes to actively listening to each caller," Kathy says.
The client services personnel are the first line to American Time's layered approach to customer success , with staff available to provide a quote, take an order, or answer general questions.
There are also experts on hand to field more challenging technical questions and provide troubleshooting guidance. On top of that, a caller might be routed to the projects team, which consults on major initiatives such as the installation of a new clock system in a school.
Customer Service = Standing Behind the Product
We see long-term customer service as core to our philosophy.
"When one of our products isn't functioning the way it should, we make every effort to not only repair or replace the product, but also investigate why the original piece wasn't working correctly," Kathy says. "We take pride in the quality of the products we deliver to clients and strive to understand any issues that arise."
Customer service isn't an add-on, it's part of our business model. That philosophy runs so deep that even those who don't use American Time products can call our customer service line to seek help. "If we don't know the product, typically when it's an older clock model or other manufacturer, we still try to provide answers or resources, even when we are unable to provide the service they need."
A History Grounded in Service and Loyalty
Great customer service isn't a new practice at American Time, it's something we've always taken pride in. "The business was started as a clock repair service and customer service was one of the things that set the founders apart from their competitors. They would repair the clocks regardless of where they came from," Kathy says. "When we started creating our own clocks and systems, service continued to be at the core of what we do and who we are."
The foundation of our customer services starts with our client services team and creating an environment where they are able to excel. "One of the team members in our department is one of the longest term employees with over 30 years experience, " she says. "Her knowledge of the core products and how the company started is such an asset to client services. We have a lot of employees with a long history in the company. It's created a solid team with a strong knowledge in clock systems and an interest in innovation. They are taking us to the next level while still supporting the customer."
Have a clock question? Call American Time's customer service department at 800-328-8996 or contact us online.