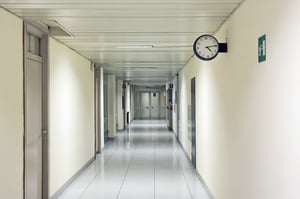 It's a fast-paced world out there. Hesitate for an instant and an opportunity of a lifetime can become the opportunity of someone else's lifetime. There are moments, though, when we can forgive ourselves for feeling a little off. Two moments, exactly: One day every spring and fall, when the clocks move forward or backward as we go through the ritual period of recalibration we call Daylight Saving Time.
Still, in this periodically forgiving model of reality, there is one place where you can never be off. If you work in a hospital, you aren't allowed to have a bad day. That's because people's health depends on hospital staff being at their best.
To get the most out of your staff, it helps if they arrive to work every day at a smoothly operating facility. There's one foundational technology at the heart of every such place: the clocks.
There are a few things that can get in the way of a clock doing its job. One of those obstacles is Daylight Saving Time. Let it creep up on you, and you'll have a bad day, but there are measures you can take to avoid that. The most meaningful is to make sure your hospital is outfitted with a synchronized clock system that updates automatically for Daylight Saving Time.
Here's what you need to think about as you get ready to move the clocks back an hour on Nov. 4.
Automation Improves Efficiency and Care
When the maintenance staff has to mobilize in order to change the time on what could be hundreds of clocks – tucked into every patient room, operating room, waiting room and doctor's office – that means there are other tasks they aren't tending to, tasks that have the ultimate purpose of making people well.
Whether they are sweeping the floor or performing open-heart surgery, all staff in a hospital are serving patients who trust that everyone is working toward one common goal. Eliminating inefficiencies, even those that aren't directly related to healthcare, better positions your employees to perform some of the most important jobs in the world.
Improving Patient Experience
What do doctors tell you when you get sick? They tell you to get plenty of rest.
If rest is vital to a patient's recovery, then it's counterproductive to your mission if you have to send maintenance workers into occupied rooms all day. Patients can be groggy or in pain, receiving visitors, or sleeping.
It's difficult to estimate the cost of even a slight disruption during one of the most vulnerable times of a person's life. The cost of an hour of sleep lost is hard to quantify. The same can be said for a moment of recovery cut short, or of precious time with family lost due to avoidable comings and goings of hospital staff.
Preemptive Action to Ensure Peace and Quiet
There are a few measures you can take to make sure that it's at least not the clocks that are causing any disruption to the healing process. Ideally, you already have a synchronized clock system that takes care of Daylight Saving Time updates automatically.
You can do more to make sure your clocks aren't cause for intrusion by performing routine checks and maintenance when rooms are unoccupied. If you use wireless battery-operated clocks, include occasional battery checks in your work schedule.
If a battery clock is off the pace and is part of a synchronized system, disconnect it from the power source for 10 seconds, reconnect it and see if it re-syncs; as it receives the time signal from the master controller, it could take as much as 24 hours before it's back on schedule. If problems persist, it could be an issue with a weak battery, or in the case of all your clocks being off, possibly a problem with the master controller or the time sync server.
The Simple Device Running a Complicated Machine
In a facility as complex as a hospital, it can be easy to overlook the importance of the clocks on the walls. However, in a place where timed cooperation is of the essence, you can't assume that everyone's watches and cell phones all display the same time.
By installing a system where the clocks update automatically, you can be certain everyone knows the correct time. This helps everyone be on the same page and cuts back on chaos and creates peace of mind..
Types of Automatically Adjusting Clocks
Synchronized clock systems from American Time provide accurate timekeeping solutions for facilities where being on time is important. American Time's products include synchronized clocks that work in concert with a master controller, in addition to Wi-Fi clocks that come pre-configured for your network, or Power over Ethernet clocks receive power and synchronized time via a CAT 5 cable.
Whichever type best suits your facility, these devices take away any worry over Daylight Saving Time by updating automatically.