Daylight saving time (DST) changes were formally established in most of the United States almost 60 years ago, but the biannual changes continue to be a hassle for maintenance teams, facility managers, IT staff and anyone else in charge of keeping a building running smoothly.
Here are some tips for preparing your clocks for DST and troubleshooting if things don't go as planned.
Make sure your synchronized clocks are ready.

Adjusting for daylight saving time is made infinitely easier if you have a synchronized clock system that performs DST updates automatically. Rather than sending staff around to manually change every clock twice a year, maintenance workers can remain focused on the other critical tasks that keep your facility running smoothly.
American Time's clocks and clock systems eliminate the need for manual DST adjustments. Additionally, many of our systems, such as the SiteSync IQ® clock system, IP network clocks, and the EverAlert® communication system can leverage synchronized time to manage other systems in your building, such as scheduled bells or lighting.

With automatic updates to your clocks, you don't have to worry whether meetings or classes are starting on time, or that bells and tones are sounding when they're supposed to. Instead, you can attend to the countless other items on your to-do list.
Like any other system, it's a good idea to perform occasional checks on your synchronized time system to ensure it's operating normally, especially ahead of a DST change. American Time's clock systems make this easy to verify.


Check the power source
To be sure a wired system clock is syncing correctly and ready for the time change, unplug it and wait until the time is different than the master before plugging it back in. This could take up to an hour depending on the type of clock and if it is equipped with a capacitor (feel free to contact us if you're not sure). It should re-sync as it receives the time signal, a process that could take up to 24 hours, depending on the type of clock.
For wireless, power-over-Ethernet (PoE), and Wi-Fi clocks, remove the power or battery from the receiver and wait for the clock to come to a complete stop before reconnecting power to the clock. The clock should re-sync automatically within 24 hours. For wireless clocks, this can be expedited by taking the master out of quiet mode if your unit is equipped prior to power cycling the clock.
Don't forget to check your battery life, as well. If it's supplying 1.5 volts or more, it should be good to go and the clock should automatically adjust. For PoE and Wi-Fi systems, this can be done from the comfort of your desk (or any other place with internet access) using the inCloud Management Portal.

Inspect the Master Controller
Attending to individual clocks won't do you any good if the master controller isn't working properly, so check the time on the master controller. Make sure it displays the correct time, time zone and DST setting.
If that all goes smoothly, you should have nothing to worry about. If it didn't, check your connections and master readout screens including power cables, antennas (where applicable), and plugs, and see our troubleshooting tips below. Ensure all connections are secure. If the controller uses Ethernet, make sure the network settings for the master clock haven't changed.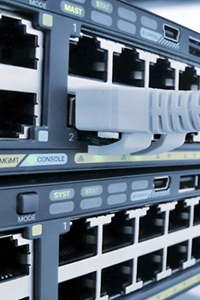 For a Wi-Fi network, make sure you've got the proper settings for SSID (network name), password and valid time server address(es).

If you're working with a PoE system, take a look at your network time servers, and the cables running to the clocks.

Troubleshooting clocks that aren't prepared

If you don't get a chance to check your system before the time change occurs and you find yourself with clocks that haven't updated, it's normally a simple fix to get everything back up and running.
In the event all of your system clocks haven't updated, the issue is likely related to either the master controller or the settings on your network. If individual clocks have failed, here are some troubleshooting tips:

Remove the clock from the power source
This is the classic "unplug it and plug it back in" approach. However, it's important to do this to ensure that clocks are syncing correctly and ready for the time change. Unplug it and wait an hour before plugging it back in. It should re-sync as it receives the time signal. This process could take up to 24 hours, depending on the type of clock.

For a wireless clock, remove the power and wait for the clock to come to a complete stop before applying power. The clock should re-sync automatically within 24 hours.
Battery life
If you are running battery-powered clocks, check the battery life. If the voltage is better than 1.5 volts, the batteries should survive the time change without problems. If they need to be changed, make sure you replace all the batteries with new, unused batteries.
---
SiteSync and Wi-Fi battery clocks should only use lithium AA batteries.
If you also have non-corrective AllSet or Atomic clocks in your facility, these should only use alkaline batteries.
---
Check connections
Make sure the connections are solid and tight. This includes power cables, antennas and plugs.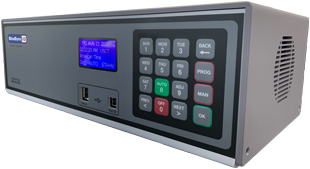 Check system settings
Make sure your system settings are dialed in. That includes checking that your system controller displays the correct time, time zone and DST setting.

Check network settings
You should also inspect the clock's network settings. Here's how to check those settings for various clock types:
If your clocks still fail to adjust, contact our clock experts at 1-800-328-8996. We will be happy to help!

Still changing clocks by hand? Calculate your lost time.

If you manage a large building or campus, you could have hundreds of clocks that help keep everyone in sync as they adhere to a tight schedule. That schedule is likely so refined that if those clocks are off by just a minute or two, the highly calibrated schedule is no longer efficient.
But if your clocks don't automatically adjust for DST, you're spending a lot of time adjusting for that change and dealing with work orders and complaints that the clocks are wrong. Let's say that task averages out to five minutes for each clock. If you have 100 clocks to adjust, that adds up to more than a full 8-hour work day. That's two precious work days each year that are dedicated to the thankless task of making sure your clocks adjust for Daylight Saving Time. Here's the equation:
5 minutes x 100 clocks x 2 DST events = 1000 minutes per year
1000 minutes ÷ 60 = 16 hours
If you want to calculate how much time your facility can save, plug in your information in the equation below. Keep in mind the different factors that can affect the speed of correcting the clock such as the experience of the person responsible for adjusting them, the time it takes to walk to each room, if the clock is located somewhere that is only accessible by ladder, and the availability of the room. Also, DST occurs twice a year so make sure to multiply your results by 2.
[average amount of time to change one clock] x [number of clocks] x 2 DST events = [minutes per year it takes to adjust the clocks]
If you're still adjusting clocks by hand, it's time to upgrade. We have clock technologies to fit any building or budget, from a full wireless system, to expanding an existing wired system, to quick-and-easy synchronization from your existing Wi-Fi network! Contact us to perform a no-obligation clock audit to understand your options.
---