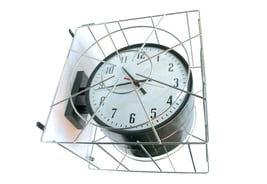 A good insurance policy will protect you when unexpected things happen. It's no different with wall clocks: purchasing wire guards or tamper-resistant security brackets to keep your clocks protected is time (and money) well spent. If your facility has a wall clock that needs protection, American Time has a solution to meet the need. Let's take a look at some solutions and scenarios where a wire guard would make sense for your school, business or facility.
Standard wire guards
These are a must for most wall clocks inside gymnasiums or locker rooms, which need protection from balls and other objects moving at high speeds. Hinged wire or round wire clock guards from American Time are a slam dunk solution for these environments.
Combination clock/speaker guards
Many middle school and high school classrooms have speakers inside for announcements and broadcast of other information. You can protect both a clock and a speaker by utilizing a combination guard that fits over both devices, provided they are aligned together. These guards have a hinge in front, allowing for quick maintenance to both.
Double-sided wire guards
American Time's double dial clock guards provide protection from possible damage inside school hallways. Wire guards provide protection to both sides of the clock's face, while also allowing easy access for maintenance.
Clock guards for weather resistancy
Clocks located outdoors near picnic areas, recess spots and other green spaces need protection from the elements. American Time's weather-resistant polycarbonate guard protects your clocks from water, heat, and humidity. This device also works great in high humidity indoor conditions like swimming pools or greenhouses.
Clear guards
If you need to maintain a clean, sleek look inside your hospital or facility while providing protection for your wall clocks, consider an open-sided polycarbonate guard. These are a tremendous option when invisible protection is needed for analog or digital clocks.
Thanks to over 35 years in the industry, American Time leads the way in clock protection solutions. Our 12,000 square foot Minnesota warehouse carries more than 150 different types of clock guards, so it's likely we have the size, color, and material you need for quick shipments. If you need a custom made solution, American Time will produce protection to meet your requirements in a timely fashion. American Time also supplies protective guards for fire alarms, thermostats, and exit signs, so our wire protection goes beyond timekeeping - we offer total facility protection.