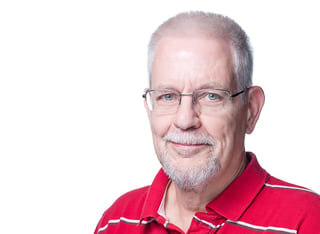 Much like the workings of a clock, an organization can only work properly if its moving parts – the staff – do what they need to. Here at American Time, we recognize the importance of those whose work often goes unnoticed such as maintenance workers – so we decided to give them the recognition they deserve by hosting our first-ever Maintenance Hero Contest.
The contest was open to any organization in any industry that wished to nominate a valued maintenance professional who routinely goes above and beyond in the workplace but receives little recognition for it.
And the Grand Prize Goes to...
This year's Maintenance Hero is Elmer Gable, Maintenance Director at Kingsway Christian School in Orrville, Ohio.
Nominators noted his strong sense of service, technical skill, willingness to go above and beyond without complaint, and his community involvement. His mentorship of children inside and outside of school is making a significant difference in their lives.
"I was very surprised," Elmer says about winning the $3,000 American Time product credit. He thought a much larger school or business would win. "I never dreamt that we would get chosen for the grand prize."
Little did he know, 11 of the school's 50-person staff would write glowing nominations to earn him the grand prize.
"What can I say, it's quite humbling," he says of the number of nominations he received.
Elmer Gable, a Humble Servant
After working 40 years for Schantz Organ Company, making his way up the leadership ladder to become a design and layout engineer, the company experienced declining business and Elmer was laid off.
There weren't many job openings in his industry at the time, but one of his former colleagues, who was a father to a Kingsway student, informed him of the available position at the school.
More than a year after being laid off, Elmer started working at Kingsway, where he's worked for seven years.
"Over the years, I was exposed to different skills that lent itself to working here," he says.
Now, a one-man maintenance machine, he either fixes it or finds someone who can. Sometimes he gets help from students as well.
Aside from his paid work at Kingsway, he also teaches boy's ministry, sings in the choir and serves on the Elder Board at the church.
Notable nominations
Many of Elmer's nominations included common themes – hard work, positive attitude, kindness, and a servant's heart.
"He works countless hours and makes sacrifices so that our school can continue to function," Ashleigh Kuhns, operations manager, says in her nomination. "He is a plumber, electrician, custodian, repairman, gardener, mover, mechanic, fireman, and any and everything else we may need on any given day."
Doug Yoder, a physical education and health teacher, says "Elmer has always been an outstanding steward of the resources available to him,"
Janie Terwilliger says he goes above and beyond his duties, always with a cheerful disposition. "He exemplifies true Christian values and is a wonderful role model to children as well as staff and teachers," she says.
Plans for the prize money
Gable plans to use his prize money to replace the school's control unit. "That piece of equipment has its issues," he says. He's also been waiting for the school's permission to spend money on replacement parts for many of their clocks.
"I'm very thankful and feel really blessed that we got this," he says. "Like all private schools, we're constantly struggling for funds to handle things. This will definitely be a big help to us."
Gail Good, a custodian at Carter's Valley Elementary School in Church Hill, Tennessee, and Kevin Bowles, lead maintenance at Windsor High School in Windsor, Colorado, were the runners-up. Each runner-up received $1,000 in product credit.